Seatrain, San Juan, Standard Gauge / 4 ft 8 ½ in gauge.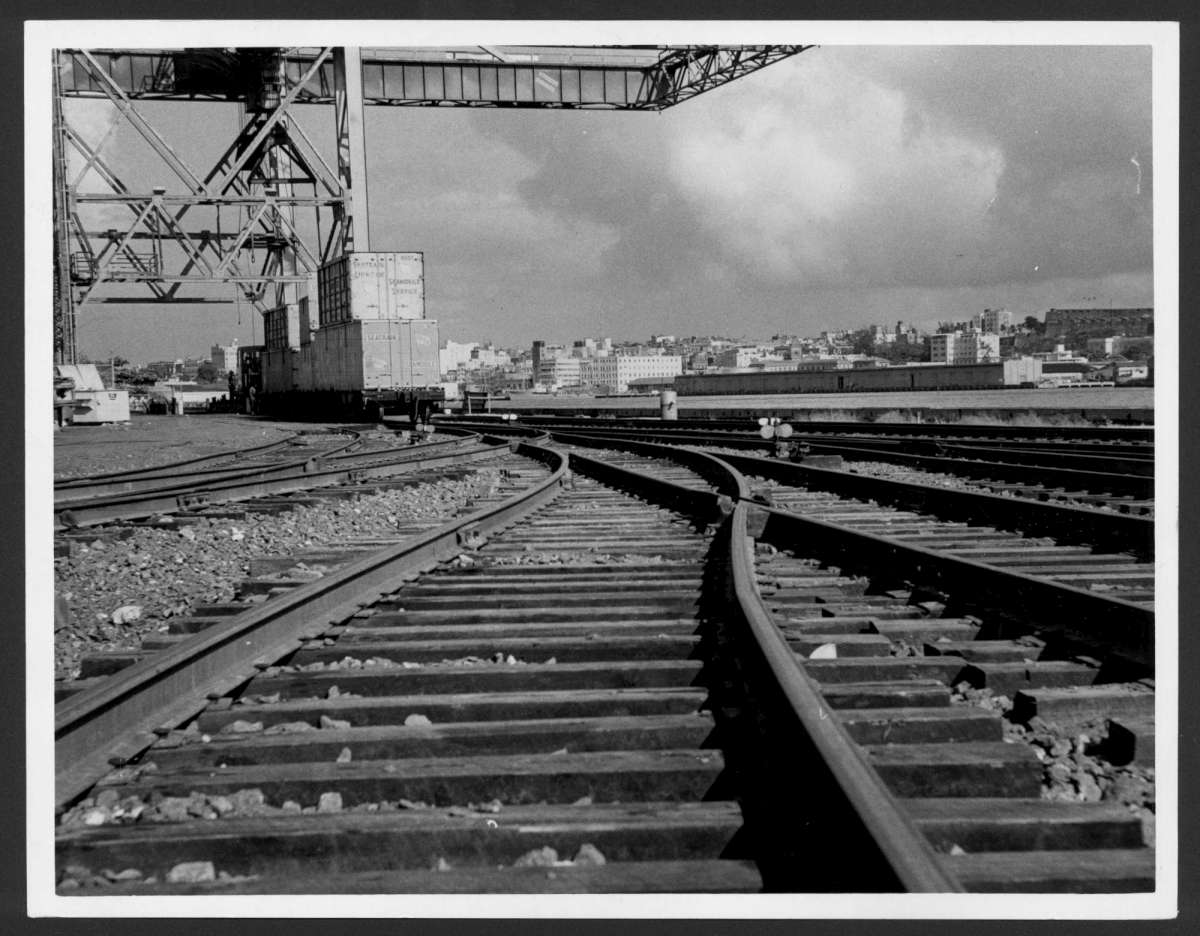 Casenave, Luis de. "Vías de Tren En Muelles de Isla Verde." El Mundo 13 Aug. 1964: Web. 25 Apr. 2013. <http://bibliotecadigital.uprrp.edu/cdm/singleitem/collection/ELM4068/id/3838/rec/35>  Nota – Debe decir Isla Grande y no Isla Verde.  Note:  It should say Isla Grande and not Isla Verde.
Casenave, Luis de. "Herminio Fernández Torrecillas Observando La Llegada de Nuevos Autobuses Para La Autoridad Metropolitana de Autobuses." El Mundo 24 July 1967: Web. April 25, 2013.  <http://bibliotecadigital.uprrp.edu/cdm/singleitem/collection/ELM4068/id/1533/rec/1>
Biblioteca Digital Puertorriqueña, < http://bibliotecadigital.uprrp.edu/cdm/>
—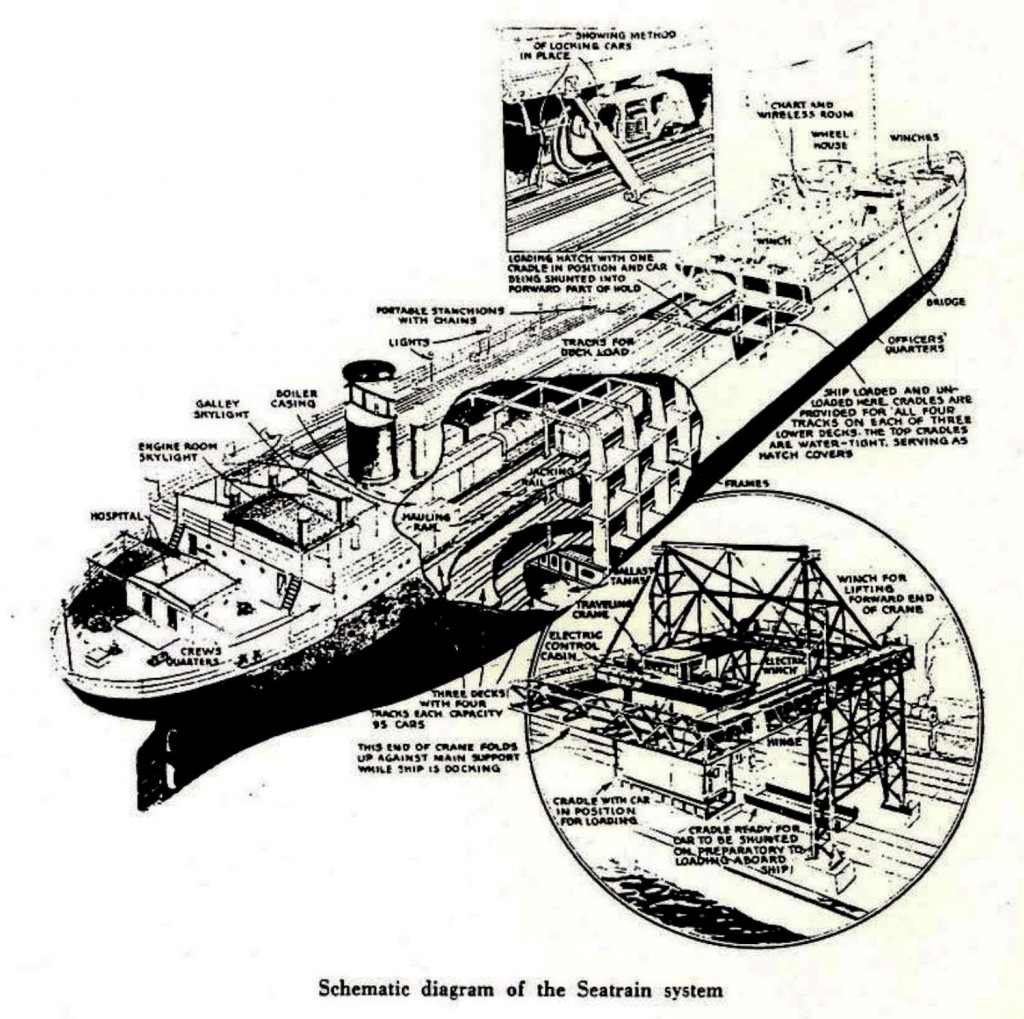 Diagram Seatrain System / Diagrama sistema de Seatrain
Transfer No. 9, page 5. Thanks to John Teichmoeller, Coordinator
Rail-Marine Information Group. http://www.trainweb.org/rmig/index.html.  Used with permission.
—
See / Ver:
"Seatrain Line." Wikipedia, the free encyclopedia 18 Apr. 2014.  Wikipedia. Web. 25, Apr. 2014.
Seatrain ships carried railcars.  At the docks, a large crane lifted the railroad cars and placed them on rails.  A diesel engine moved the cars to tracks where their contents were moved to trucks.  Later on containers were carried on the ships and were transferred to flat cars.  I Interviewed Rafael Zambrana, of Zambrana Trucking, who had seen this operation.  He stated that the ships carried the cranes.  Photos show the that crane was located on the dock.  Perhaps both systems existed.  This operation existed during the 1960s.  I have not been able to locate aerial photos and track diagrams of the Seatrain operation.
Los barcos de Seatrain transportaban vagones ferroviarios.  En el muelle, grúas levantaban los vagones y los colocaban sobre rieles.  Locomotoras diesel movían los vagones a áreas donde su contenido era transferido a camiones.  Luego se usaron furgones que eran colocados sobre vagones plataformas.  Entrevisté a Rafael Zambrana,  de Zambrana Trucking.   El vio esta operación.  Según él, los barcos tenían grúas.  En las fotos la grúa estaba en el muelle.  Quizás se usaron ambos sistemas.  Esta operación existió para la década de 1960.  No he podido localizar fotos aéreas ni diagramas de la vía.
—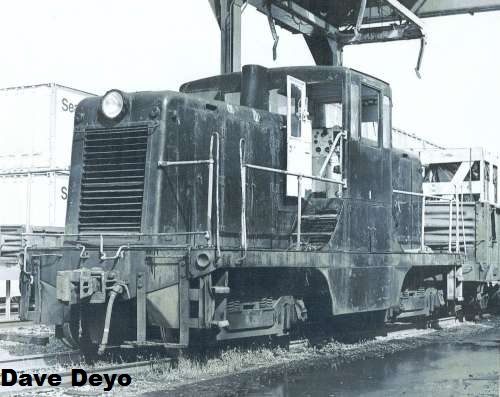 SeaTrain GE 44 Tonner # 9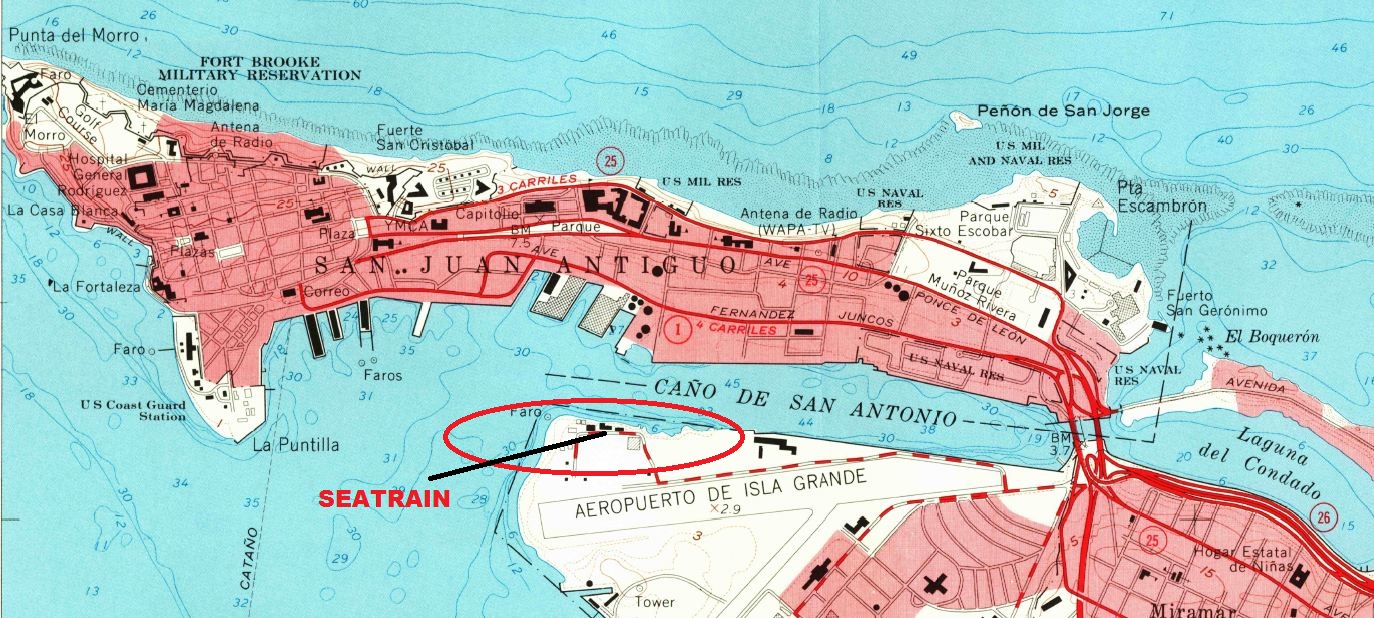 (Courtesy of the U.S. Geological Survey)