We have (had) two operating railroads located in the towns of Ponce, San Juan, Guaynabo, and Bayamón. / Tenemos (teníamos) dos ferrocarriles operando localizados en los pueblos de Ponce, San Juan, Guaynabo, y Bayamón .
1.  Ferrocarril Chemex /  Chemex Railroad

El único ferrocarril industrial operando en Puerto Rico.  Está localizado en el puerto del pueblo de Ponce.  Su ancho de vía es "Standard", 4 ft 8 ½ in, o sea del mismo ancho de vía que los ferrocarriles de Estados Unidos.  Este ferrocarril recibe dos veces al mes aproximadamente 20 vagones tanques en una barcaza desde Mobile, Alabama, Estados Unidos.  Tiene dos locomotoras diesel.  Operaciones empezaron alrededor del 1988.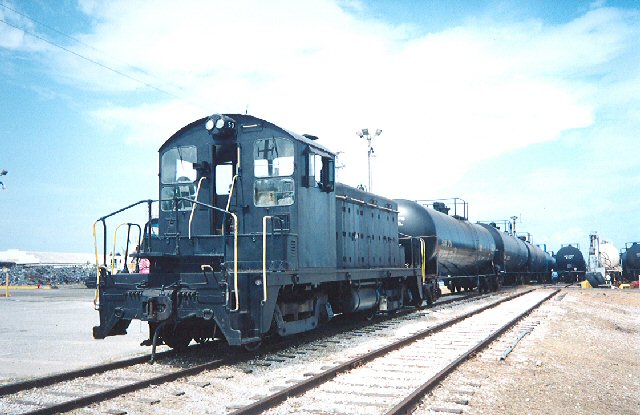 This is a standard gauge railroad located in the southern port of Ponce.  It is the only industrial railroad in Puerto Rico.  About twice a month, there is a barge service, carrying about 20 tank cars, between Mobile, Alabama and Ponce, Puerto Rico.  It has two diesel locomotives.  Operations started around 1988.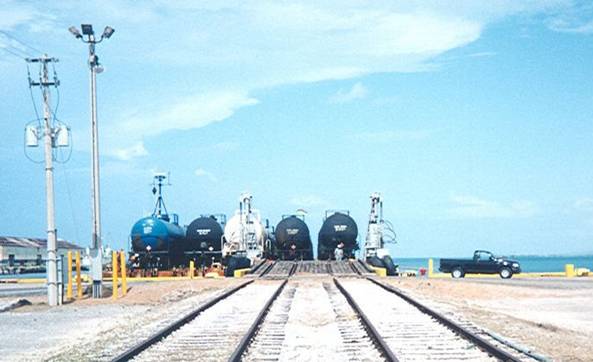 Las operaciones en Ponce consisten en bajar y subir vagones a la barcaza.  Los vagones en el terminal sirven de almacén hasta que son vaciados.  Los vagones luego son enviados de vuelta a Mobile, Alabama.   Esta operación es rápida y ocurre más o menos dos veces al mes, por lo que pocos logran verla.
Operations consist of unloading and loading the tank cars on the barge in Ponce.  This operation is done quickly a couple of times a month.  Many do not get to see this.  Cars at the terminal are used as storage until their contents are delivered.  Cars are then sent back to Mobile, Alabama.

National Atlas of the United States
Notice / Nota
This railroad stopped operating around 2010.
Este ferrocarril dejó de operar cerca del 2010
Chemex Railroad – Locomotives / Ferrocarril Chemex – Locomotoras
Chemex Railway by  Michael T. Burkhart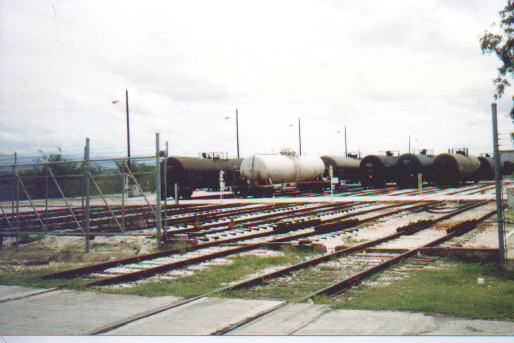 2.  Tren Urbano / San Juan Tren Urbano Light Rail System
Este es el ferrocarril más nuevo de Puerto Rico.  This is the newest railroad in Puerto Rico. 
See / Ver: http://en.wikipedia.org/wiki/Tren_Urbano
Su ruta une a San Juan, Guaynabo, y Bayamón.  Busque en el Internet usando las palabras – Tren Urbano Puerto Rico.  Su ancho de vía es 4 ft 8 ½ in.
It links San Juan, Guayanbo, and Bayamón.  Search the internet using the words "Tren Urbano Puerto Rico".  The gauge is 4 ft 8 ½ in.