Ramey AFB (Borinquen Field) had a railroad connected to the American Railroad of Puerto Rico.  It also had an industrial railroad operation.  Most likely this was a private company. /  Ramey AFB (Borinquen Field) tuvo una conexión ferroviaria con la American Railroad.  Además tuvo un ferrocarril industrial.  Lo más probable era una compañía privada.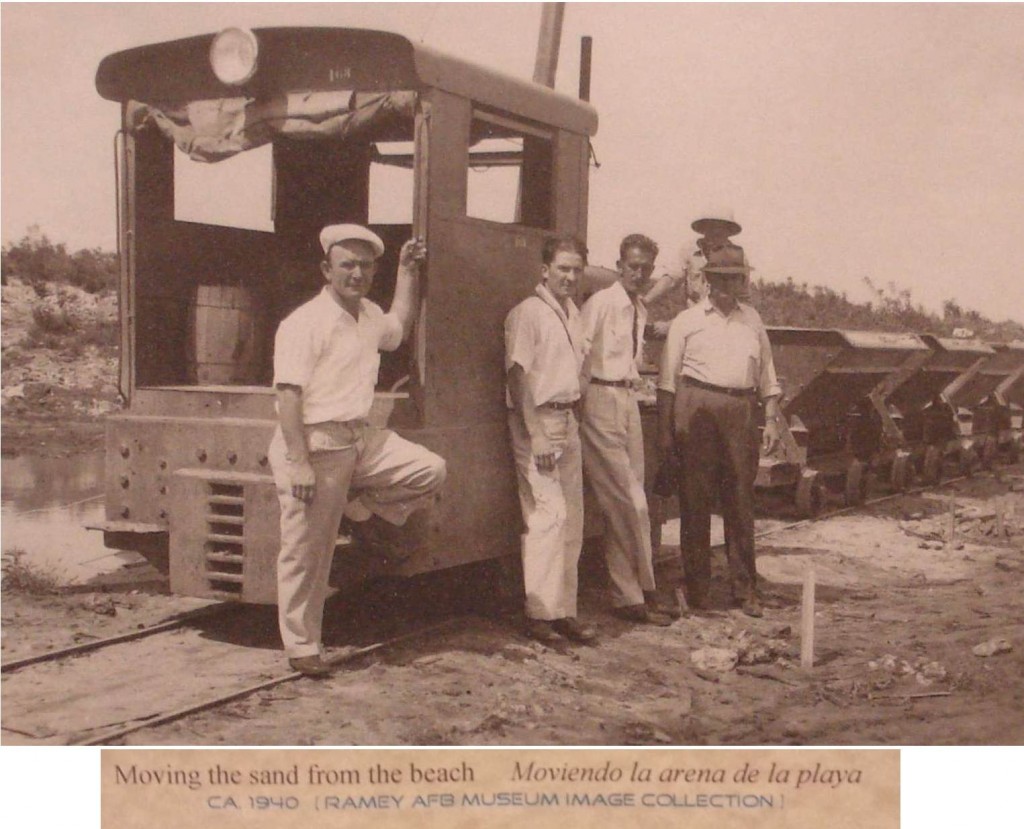 Sand used to make concrete for the hangars was extracted from Survival Beach.  A funicular and railroad was used to move the sand to the area of the construction site.
La arena para el concreto usado para la construcción de los hangares se obtuvo de la playa conocida como Survival Beach.  Se usó un funicular y un ferrocarril para llevar la arena al área de construcción.
—
The funicular is an inclined railway where cars are moved by a cable operated by a winch, a stationary engine.
El funicular es un ferrocarril que subía y bajaba una cuesta muy inclinada mediante el uso de cables operados por un malacate, un motor estacionario.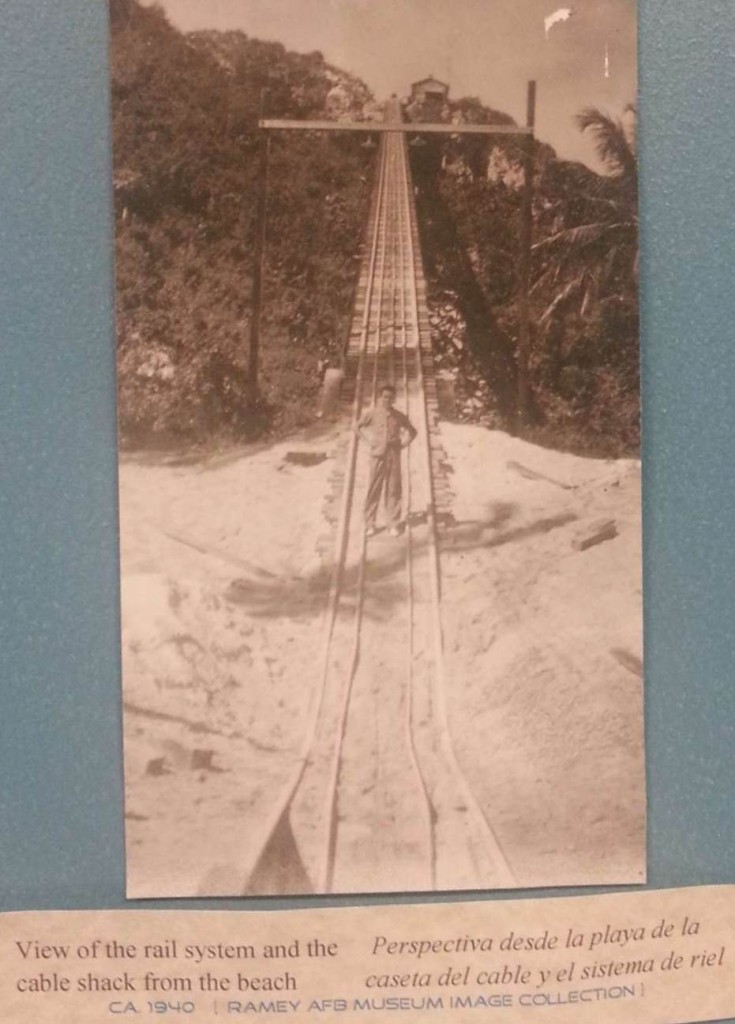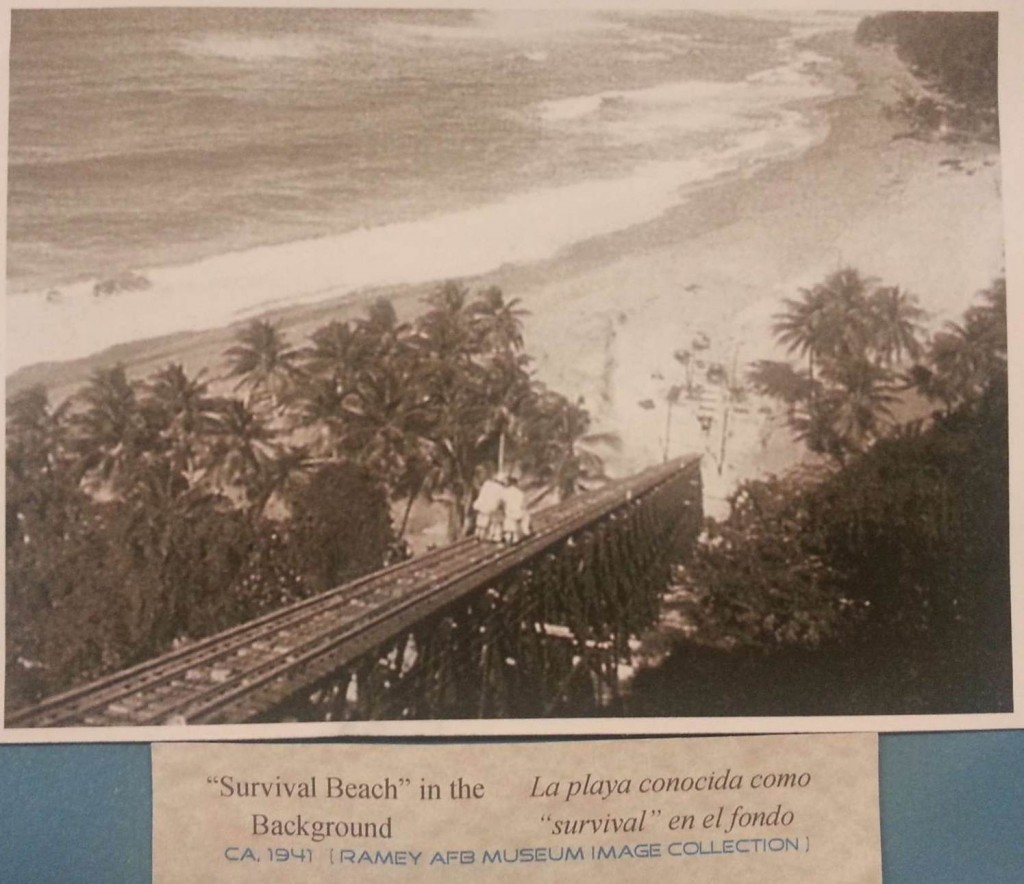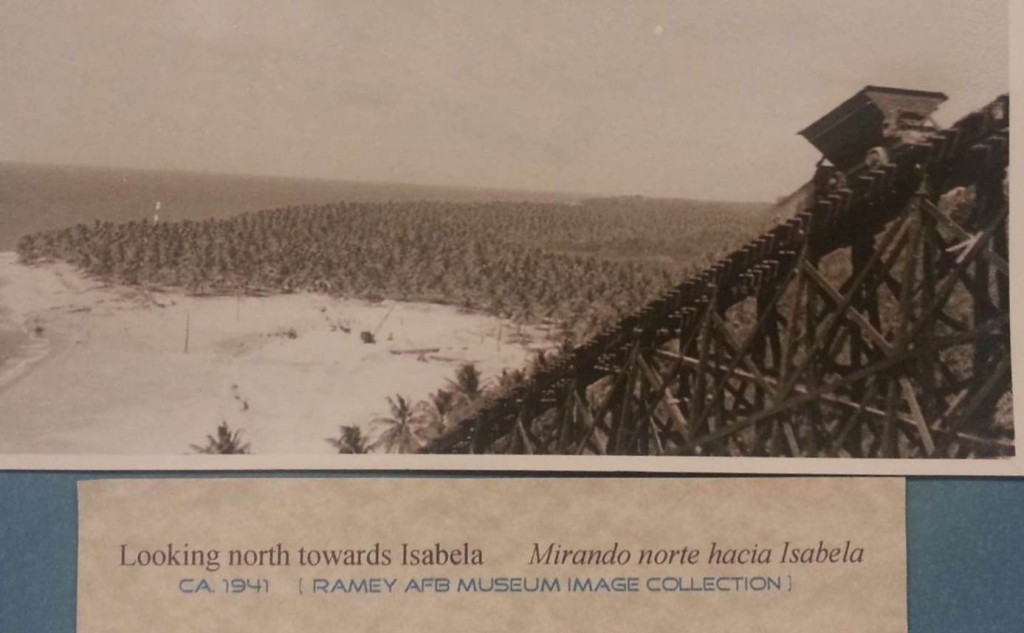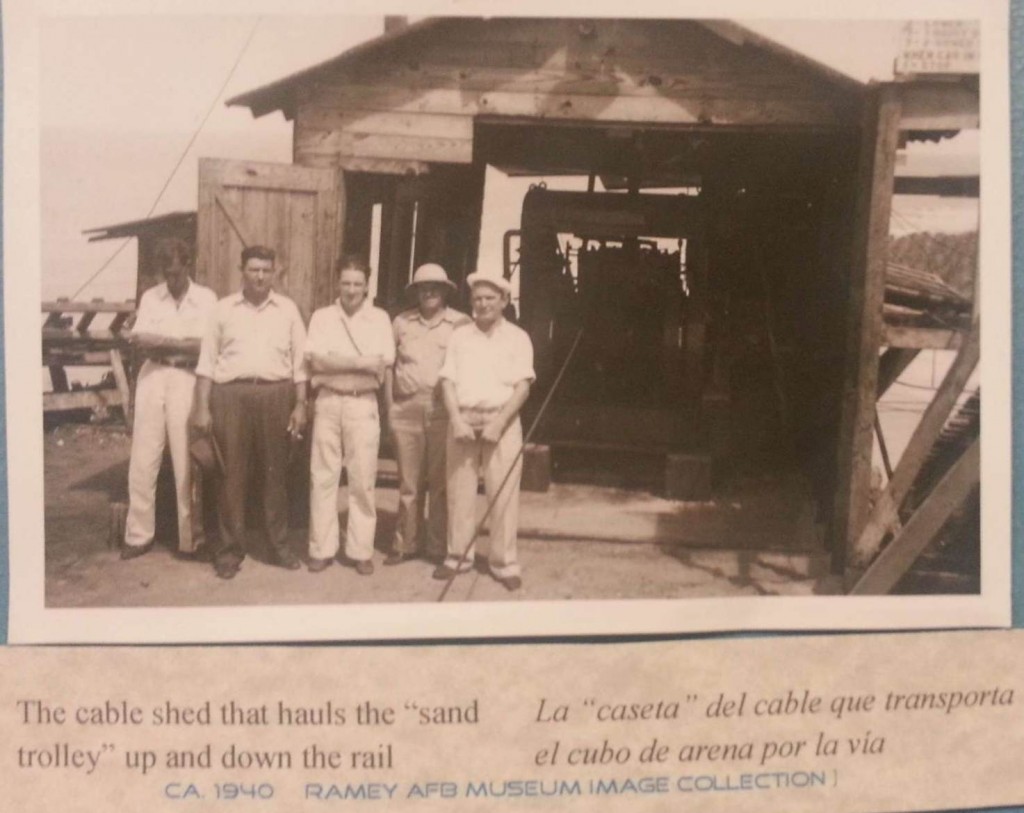 Casa de Máquinas (Malacate / "Winche"/ Torno) / Winch Station
—
Other funiculars on the Island / Otros funiculares en la Isla :
Ferrocarril del Sistema Hidroeléctrico del Río Blanco,  Naguabo / Railway of the Blanco River Hydroelectric System, Naguabo 
—
Mapas – Plano / Maps – Plans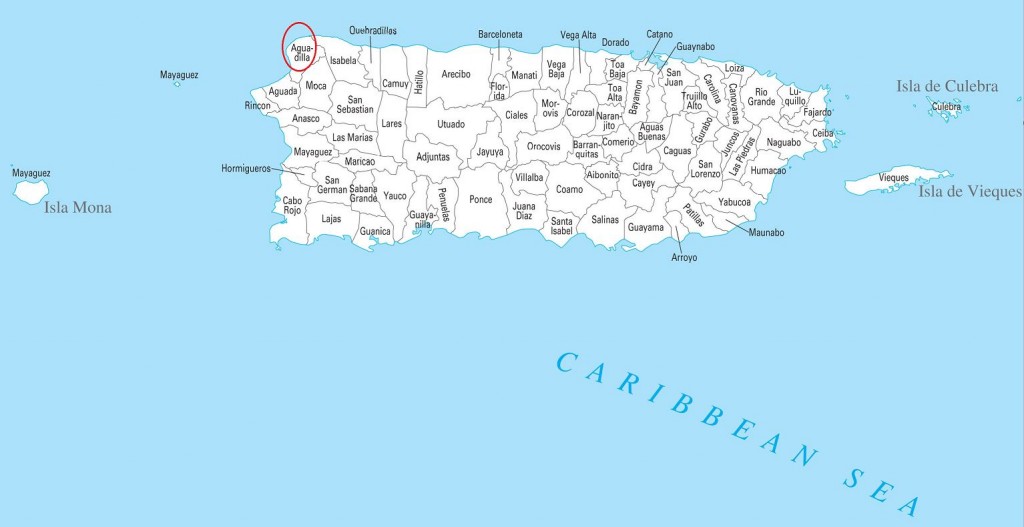 Source / Fuente: National Atlas of the United States,  http://nationalatlas.gov .  Last
modified:  Thursday, 27-Jan-2011 17:18:20 CST.
—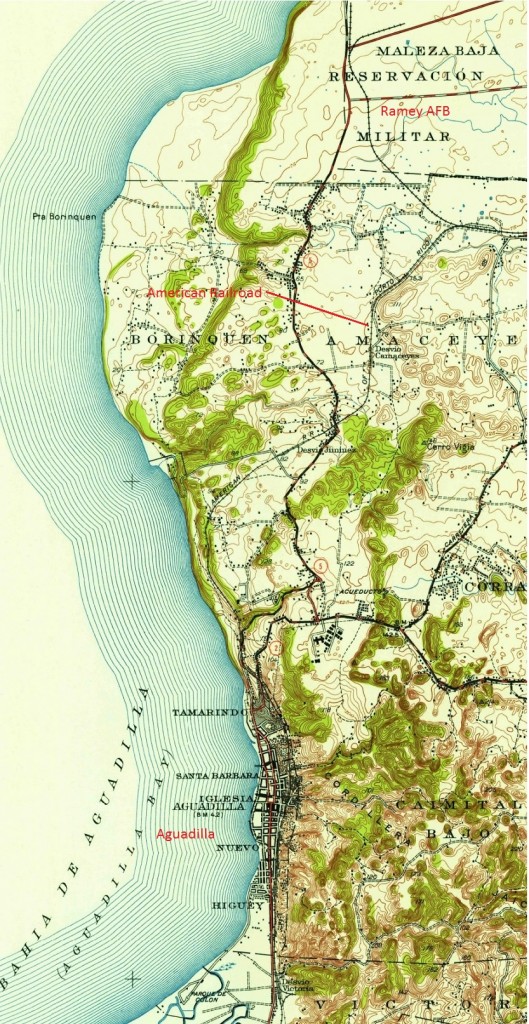 U.S. Geological Survey.  Aguadilla [map], Puerto Rico.  1942.
—
—
Gracias a Ricardo Busquets, Director Ejecutivo del Borinquen Field / Ramey AFB Museum, por el uso de las fotos del museo.  Para más información, favor de comunicarse a las siguientes direcciones y teléfono:
Thanks to Ricardo Busquets, Executive Director of the Borinquen Field / Ramey AFB Museum, for the use of the museum photo collection.  For more information, call or write to the addresses or telephone: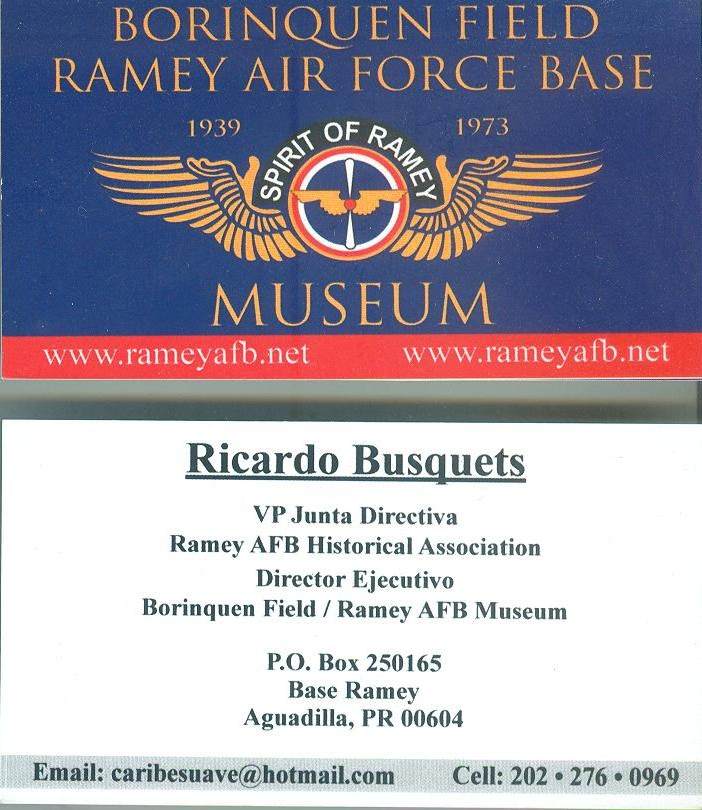 —
Special thanks to Victor Díaz, Ramón Calero, and Elisaúl Vázquez for taking my son Juan Carlos Aponte and me to the Borinquen Field / Ramey AFB Museum and to see the Black Tunnel (largest tunnel) of Quebradillas.
Gracias especiales a Victor Díaz, Ramón Calero, y Elisaúl Vázquez por llevarnos, a mi hijo Juan Carlos Aponte y a este servidor Roger Aponte, al museo de Borinquen Field / Ramey AFB y a ver el Túnel Negro de Quebradillas.
—