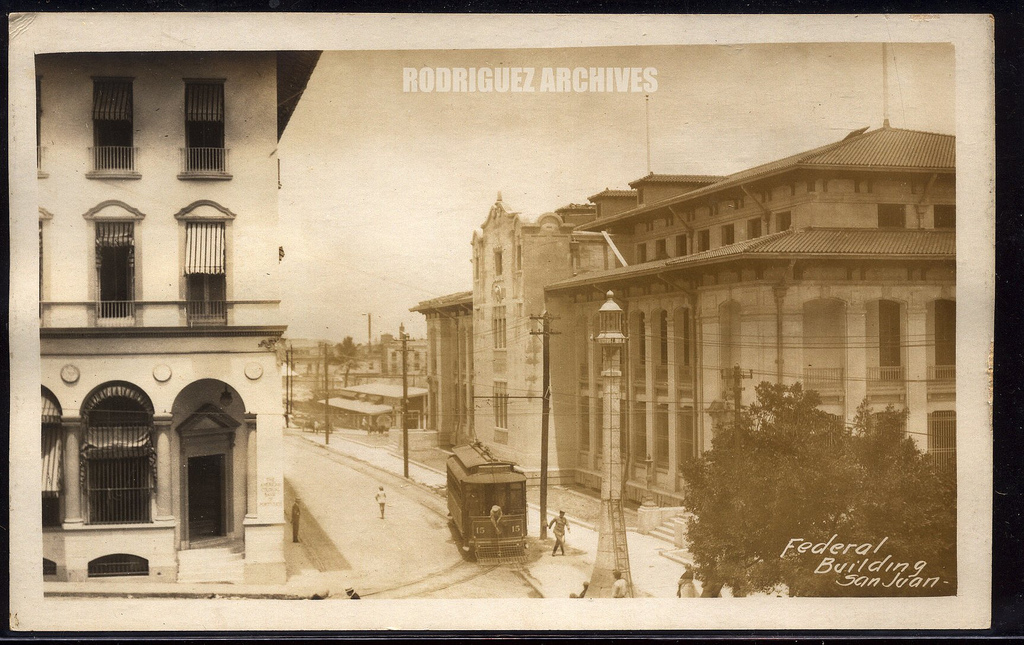 MOSCIONI RPPC ~ SAN JUAN – Federal Building [Electric Trolley Car #15] – Unused).  Archivo Histórico y Fotográfico de Puerto Rico – Colección Rodríguez , and Archivo Histórico Y Fotográfico De Puerto Rico's photostream .
Photo used with permission / Foto usada con permiso.
Porto Rico Railway, Light and Power Co.
San Juan
Gauge / Trocha (ancho de vía):  4 ft 8 ½ in. 
San Juan Electric Trolley
San Juan Light and Transit Co.
Tranvía Eléctrico de San  Juan
Autoridad de las Fuentes Fluviales – Franchises / Franquicias:
Porto Rico Power and Light Co.
J.G. White and Co., Inc.
San Juan Light and Transit Co.
W.M. Aitken's franchise
El Trolley eléctrico de San Juan pasó a ser parte de la Autoridad de las Fuentes  Fluviales, y sustituida por guaguas.  Las franquicias mencionadas pasaron a ser parte de la misma.
See: http://www.tramz.com/pr/sj.html The Tramways of San Juan, Puerto Rico by Allen Morrison, (Copyright © 2008-2108 Allen Morrison).  This was put online on 1 November 2008.  Este es un enlace sobre los tranvías de San Juan, Puerto Rico.