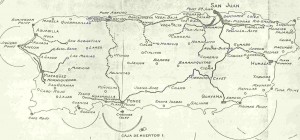 Source / Fuente: Annual Reports of the War Department for the Fiscal Year ended June 30, 1900, Washington: Government Printing Office, 1902.
Going from Ponce to San Juan on a train would require various transfers to carriage transports between the different sections of the railroad.
There was the alternative to travel by boat or by carriage across the Island, a long and hard journey anyway.  French investors started building
what would become Puerto Rico's largest railroad going from San Juan to Ponce by way of Mayagüez and San Juan to Carolina. It was the
Compañía de los Ferrocarriles de Puerto Rico commonly known as the French Railroad and later American Railroad.  French equipment was used.
Today in France there is a restored Cail steam locomotive, in operation, which was among the first locomotives to operate in Ponce.
Para viajar de Ponce a San Juan en ferrocarril requería el uso de traslado en coches entre los diferentes  tramos del ferrocarril.  Las otras alternativas eran
viajar en barco o por coche a través de la Isla, un viaje largo y duro como quiera.  Inversionistas franceses empezaron a construir lo que sería el ferrocarril
más grande de Puerto Rico, cubriendo San Juan a Carolina y San Juan a Ponce pasando por Mayagüez.  Era la Compañía de los Ferrocarriles de
Puerto Rico, comúnmente conocida como el Ferrocarril Francés y después como la American Railroad.  Hoy día en Francia existe una locomotora de vapor Cail
restaurada, operando un tren de turismo, la cual fue una de las primeras locomotoras que operaron en Ponce.
© 2009 Roger W. Aponte