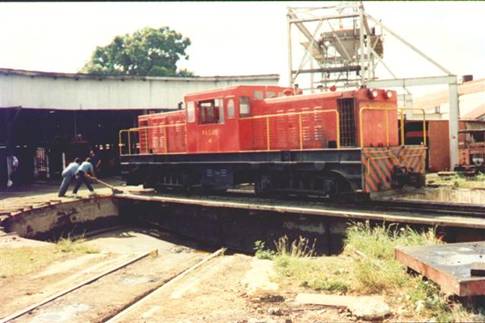 Locomotora Plymouth CR-8, 50 toneladas en giratoria.  Notice that the turntable / round table is manually operated.  Observe que la giratoria es operada manualmente.
Ponce & Guayama Railroad
Ponce to Arroyo
Gauge / Trocha (ancho de vía):  Meter / Metro
It was the last sugar cane railroad that operated on the Island and served Central Aguirre.  This railroad began operating from Guayama to Ponce in 1910 as a public service railroad.  Closed 1990

Último ferrocarril de caña de Puerto Rico que daba servicio a la Central Aguirre.  Empezó a operar en el 1910 entre Ponce y Guayama.  Cerro en el 1990.
Central Aguirre, Luce & Co., affiliate / Afiliado a la Central Aguirre y Luce & Co.