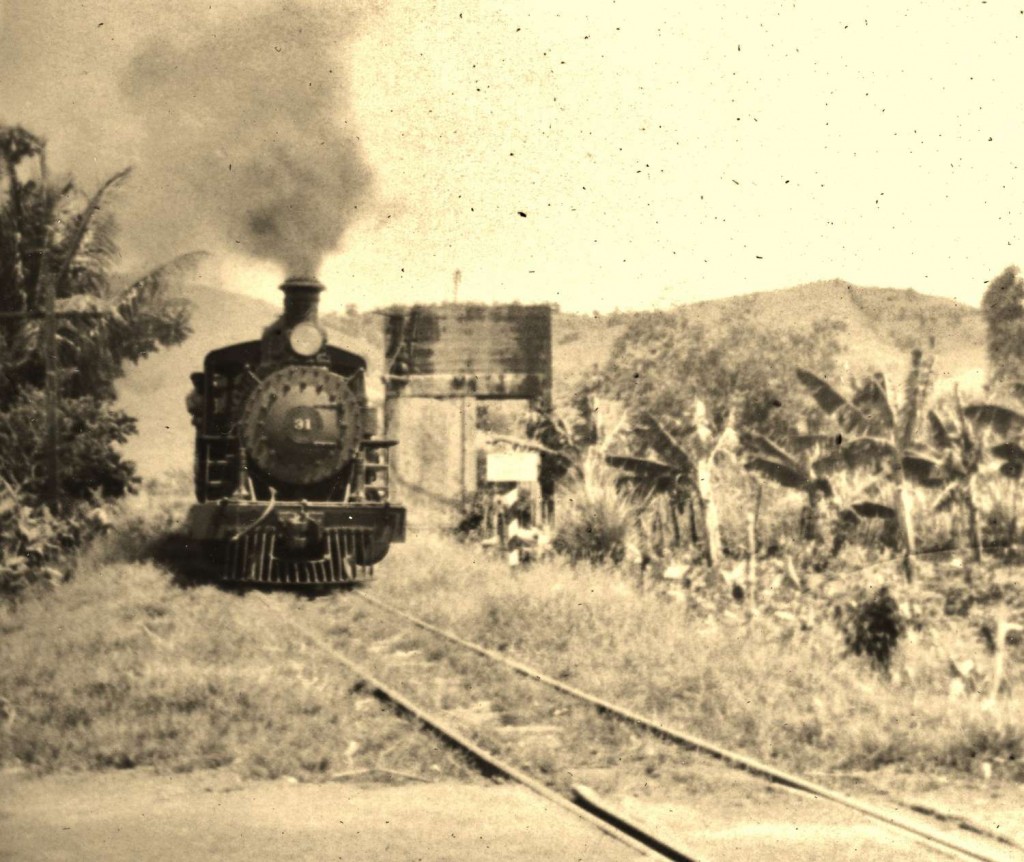 Puerto Rico, ca. 1950. Robert Ehret photo.
Ehret, Robert.  "RE975–Train No. 31, Water Tower in Background | Flickr – Photo Sharing!" N. p., n.d. Web. 2 Dec. 2013.  http://www.flickr.com/photos/tlehman/11150531503/
Tom Lehman – t13hman's photostream,  http://www.flickr.com/photos/tlehman/

—
pr rr historian1:
#31 is a Baldwin type 2-8-0 freight locomotive belonging to the American Railroad Co. of Porto Rico. At this date in time it is probably lettered for the Puerto Rico Railroad & Transport Co. which took over the ARR after bankruptcy. The condition of the track with so much vegetation is indicative of the last years this system ran while operating in the red with no funds for fancy things like spraying for weeds. #31 was built in January of 1904, serial #23182, and at near 50 years of age is a testimony to the quality of product Baldwin built. Originally fired by coal, it was converted to fuel oil early in its life. Most of these types lasted into the last years of operation of the railroad in 1957. Thanks to Tom and the photographer for helping preserve the railroad history of Puerto Rico, as well as other facets of history of the island.
Email from Dave Deyo, Dec. 2, 2013
Attached is an improved image of a posting by Tom Lehman on Flickr, showing ARR Baldwin 2-8-0 #31 somewhere on the railroad near a water tank, about 1950.  It is sad to see how the railroad itself looked in the last days, with grass growing over the right-of-way and the brush beginning to close in on the tracks.  Built in 1904, this locomotive is nearly 50 years old and still working for a living, a true testimonial to the quality of locomotives Baldwin built.  While not a great picture, any picture of a railroad in Puerto Rico is always welcomed and exciting to me.