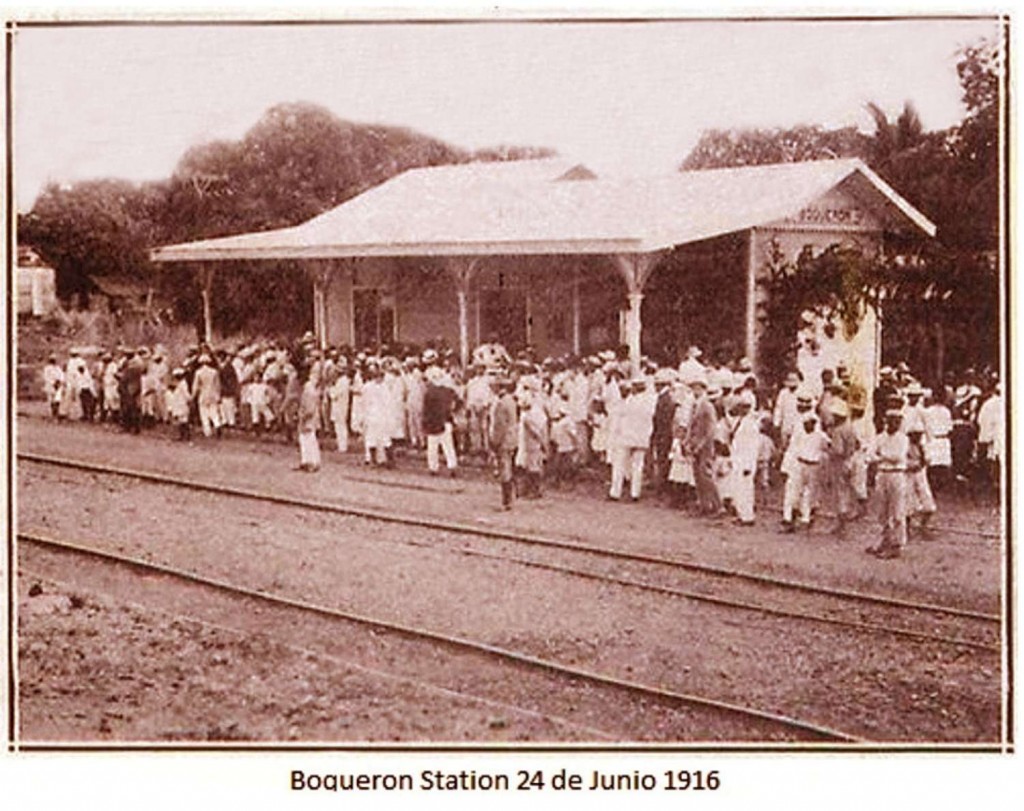 Colección Ricardo R. Medina / Puerto Rico Ilustrado, 24 de junio de 1916
—
Boquerón es un barrio de Cabo Rojo. /  Boquerón is a suburb of the town of Cabo Rojo.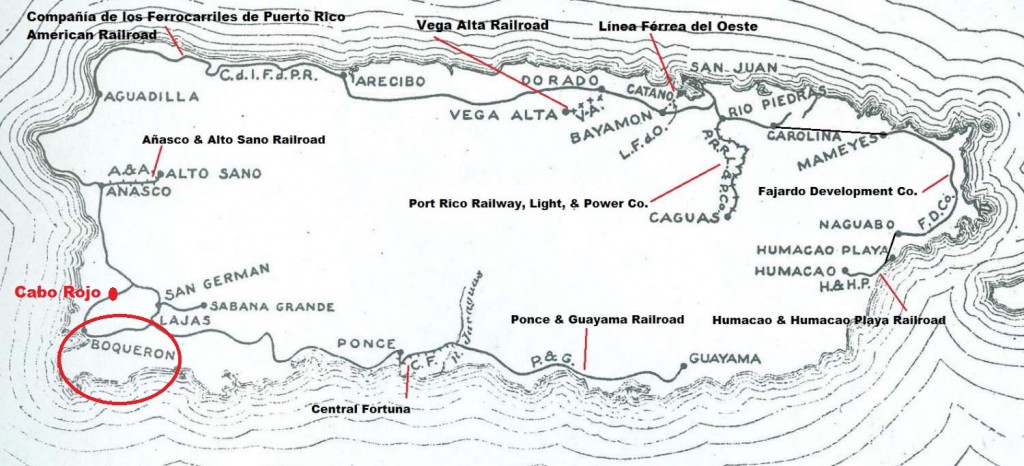 Source / Fuente:  Interstate Commerce Commission. No. 5701. In the matter of safety appliances of equipment in railroads of Porto Rico. Washington: Government printing office: 1916
—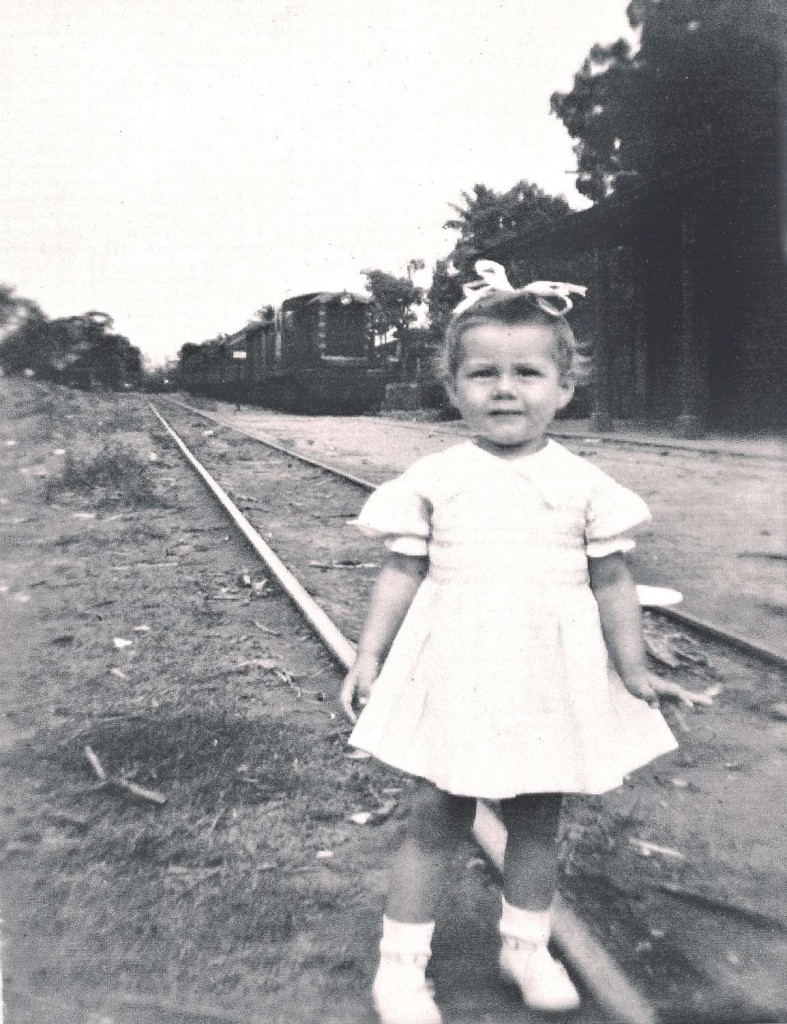 Edna W. Rodríguez, Cabo Rojo, PR, en la estación de Boquerón.  Observen el tren de pasajeros con locomotora diesel.  Edna trabaja hoy día para Experience Works con oficinas en lo que era la estación de Cabo Rojo.
From: dave deyo
Date: Tue, Jul 16, 2013 at 4:40 PM
Subject: Re: Boqueron station
To: Roger Aponte
Hello Roger: …… it is rare to see the Davenports in operation on the ARR.  Even more rare and not yet to be found are photos of the Plymouths and Whitcomb locomotives.  Dave (Edited email)
Nota:  Dave identifica la locomotora como una Davenport (diesel).
—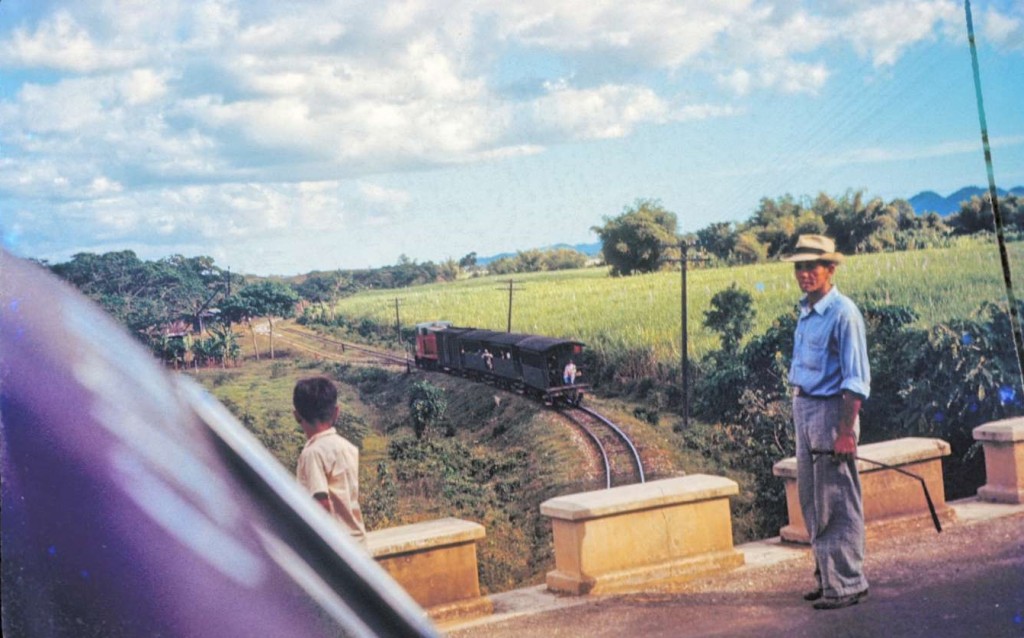 Lehman, Tom. Train, Seen from Overpass with Man and Boy (Between 1944 and 1947 / #2097 / H. Clair Amstutz photo). 2007. Flickr. Web. 24 July 2013.  http://www.flickr.com/photos/tlehman/437448584/
[Sector El Túnel de Hormigueros, Carr 114 y 309, Hormigueros, PR.  Nota:  Observe que la locomotora es una diesel, como en la foto anterior,  y los vagones son de los primeros que existieron en Puerto Rico, fabricados en Bélgica.  Área identificada por Efraín Martell.]
This is a most interesting photo for several reasons. It is late in the
history of the American Railroad and one of the diesels financed by
the US Government to assist operations on the ARR at the onset of
World War II is pulling a string of Belgian made ex-Cia. Ferrocarriles
de PR coaches dating to the late 1800s….. But why the old coaches,
when the ARRCo. owned a healthy fleet of more modern ones??
It is hard to identify the locomotive by brand, as both the Davenports
and the General Electric locomotives look quite the same at this
distance and at the poor angle.
The US Government seized the ARRCo. in 1941, but turned it back
to the original parties in 1944 when it was no longer considered
vital to defense or war efforts.
The demise of the American Railroad and the San Juan trolley
system represent several horrible mistakes allowed to happen to
a badly needed set of transportation modes for an overcrowded
Island like Puerto Rico……
Dave Deyo
Edited
—
See / Ver:  Maps / Mapas
Cabo Rojo – Lajas – San Germán – Mayagüez – Hormigueros
Mayagüez – Lajas and / y Mayagüez – Sabana Grande
—
Gracias a Chin Ramírez de Cabo Rojo y Efraín Martell de Mayagüez por las gestiones relacionadas a las fotos.