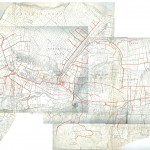 Observe:  Universidad de Puerto Rico, Central Victoria (Sugar Mill), Central Canóvanas, American RR of Porto Rico, Fajardo Development Co.
Why so many tracks (marked in red)?  Some sugar mills had railways, in most cases with connections to the main lines.  Tracks went into sugar cane plantations.  Harvested sugar cane was carried to the sugar mills by train.
¿Por que tantas vías ferroviarias (marcadas en rojo)?  Algunas centrales tenían ferrocarriles con conecciones a las vías principales.  Sus vías llegaban a las siembras de caña donde al ser cosechadas,  eran llevadas a las centrales en vagones.