Ponce & Guayama Railroad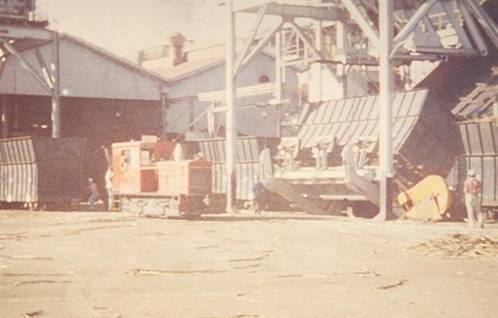 Unloading facilities of sugar cane /Virador –  área de vacío de caña en la central
Central Aguirre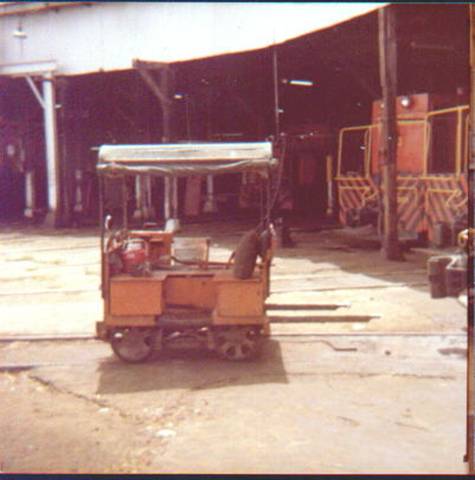 Motor car or speeder / Auto-vía, automotor, Buda –Carritos de gasolina usado por las
brigadas de mantenimiento de vías.  Son sacados o removidos de la vía como una carretilla.  (Central Aguirre)

Round House / Casa de Máquinas (Garaje de locomotoras y budas)
Central Aguirre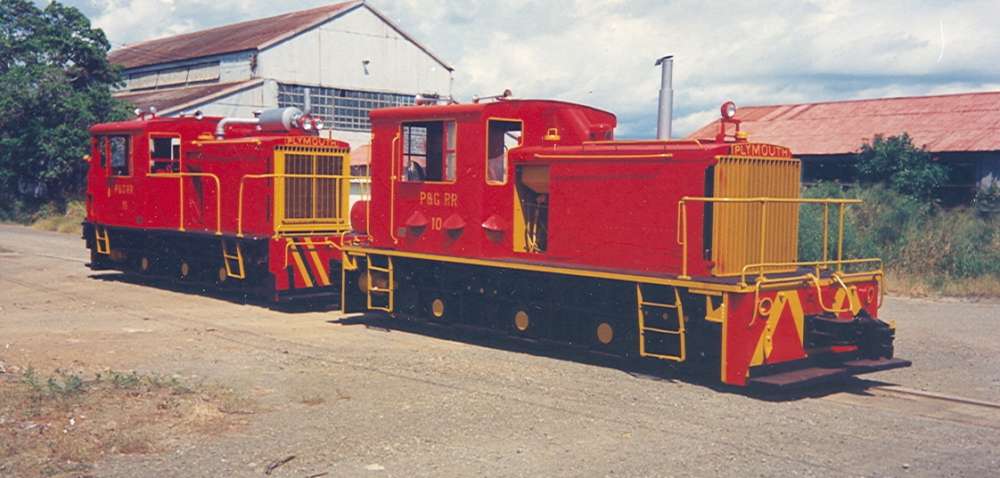 Plymouth Locomotives (Central Aguirre)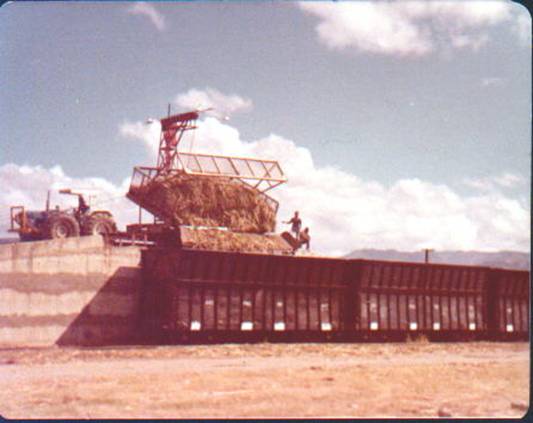 Loading Ramp.  Derrick or cranes are also used. / Rampa usada para llenar vagones de caña.  También se usan grúas.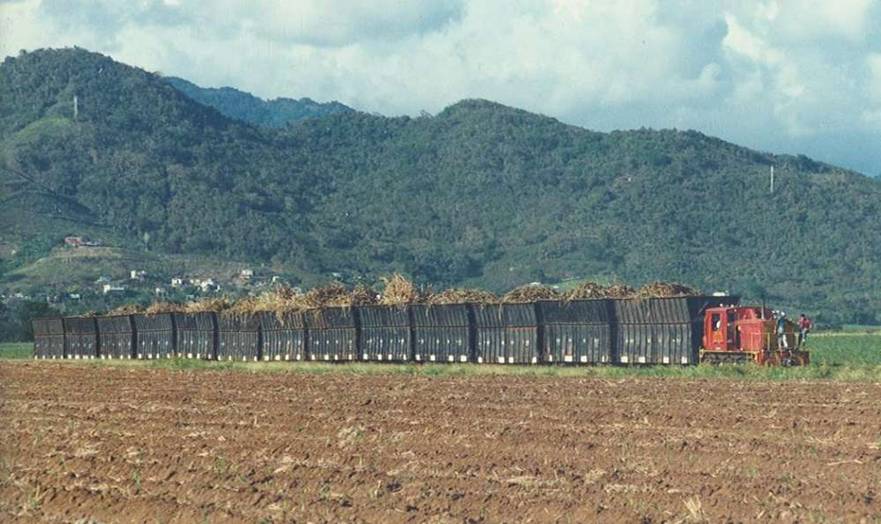 Ponce & Guayama sugar cane train.  Colección Dave Deyo
General Roy Stone obtained by auction Hacienda Aguirre and also owned the Port America Co., a railway franchise.  He was not able to come up with the money so DeFord & Co. bought Hacienda Aguirre in 1899.  DeFord were bankers from Ponce, who had come from Boston.  They built a modern sugar mill and railroad.  The Port America Co. became part of the Aguirre mill railroad which also had a portable railway which used oxen for motive power.  The railway was named American Railroad Co. of  Porto Rico, Aguirre Operator which later became Ponce & Guayama Railroad.  It operated between the towns of Ponce and Guayama.  They bought the franchise of Ferrocarriles de Puerto Rico, to operate a public service railway east of Ponce, with passenger and freight service beginning in 1910 between the towns mentioned.  In the 1970's sugar cane operations were extended to the town of Arroyo.

Ownership of Central Aguirre and the Ponce & Guayama Railroad changed.  The sugar mill, the railroad, the lands, and other properties were expropriated in 1970 by the government.  The Land Administration of Puerto Rico operated the sugar mill and railroad.  These operations were passed on to the Sugar Corporation of Puerto Rico, a subsidiary of the Land Authority of Puerto Rico.  This last agency controlled the lands.  The sugar mill and railroad ceased operations in 1990. 

The Ponce & Guayama Railroad was the last operating sugar cane railway of Puerto Rico.  Track gauge was one meter.

El General Roy Stone obtuvo por subasta la Hacienda Aguirre y poseía la franquicia Port America Co., un ferrocarril.  El no pudo obtener el dinero así que DeFord & Co. compraron  la Hacienda Aguirre en 1899.  DeFord & Co. eran de Ponce y habían venido de Boston.  Construyeron la Central Aguirre y su ferrocarril de caña usando locomotoras de vapor.  La Port America Co. pasó a ser parte de la Central Aguirre además del ferrocarril de sangre de vías portátiles ya existentes.  El ferrocarril de vapor se llamó American Railroad Co. of  Porto Rico, Aguirre Operator y luego cambió su nombre a Ponce & Guayama Railroad.  Este operaba entre los pueblos de Ponce y Guayama.  Ellos compraron la franquicia de Ferrocarriles de Puerto Rico para operar un ferrocarril de servicio público al este de Ponce, dando servicio de pasajeros y de carga, el cual empezó en el 1910.  Para los años 1970's, las operaciones de caña se llevaron hasta el pueblo de Arroyo.

La Central Aguirre y el Ponce & Guayama Railroad pasaron a otros dueños.  La central, el ferrocarril, y sus tierras, más otras propiedades fueron  expropiadas en 1970 por el gobierno de Puerto Rico.  La Administración de Terrenos se encargó de las operaciones de la central y el ferrocarril.  Posteriormente las operaciones pasaron a la Corporación Azucarera, subsidaria de la Autoridad de Tierras.  La Autoridad de Tierras administró las tierras.  La central y el ferrocarril dejaron de operar en el 1990.

La Ponce & Guayama Railroad fue el último ferrocarril de caña de Puerto Rico.  El ancho de vía era de un metro.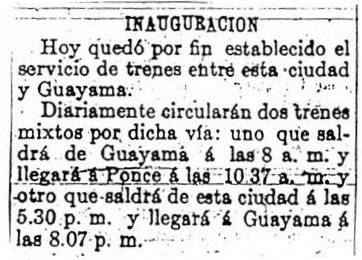 Aguila de Puerto Rico, 1 de oct de 1910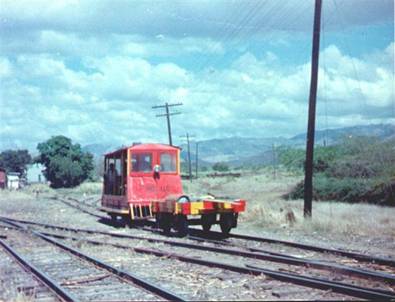 Used for maintenance by the carpenter brigade.  Usado por la brigada de carpinteros para mantenimiento.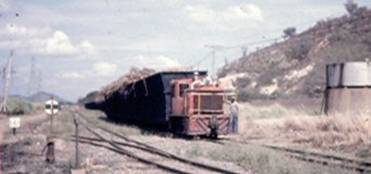 Sugar train for Central Aguirre.  Carga de caña para la Central Aguirre.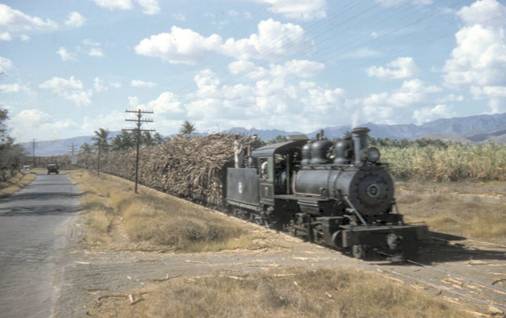 Steam locomotive pulling sugarcane by t13hman.  Nissley, A:photog
http://www.flickr.com/photos/tlehman/908831171/
See / Ver:

Aguila de Puerto Rico, 1 de oct de 1910. (Newspaper)
Aponte Pargas, Roger, Apuntes sobre el último ferrocarril de Puerto Rico, Ponce & Guayama Railroad, P&G, 1984.
Central Aguirre Sugar Co. Fiftieth Anniversay Annual Report, 1949.
Dept of the Interior, letter, 1938
First Annual Report of the Governor of Puerto Rico
Ramos Mattei, Andrés, La Sociedad del azúcar en Puerto Rico: 1870-1910, 1988.
t13hman's photostream,  http://www.flickr.com/photos/tlehman/

Ponce & Guayama Mapa Topográfico (Topographic Maps)

Work train.  Tren de trabajo
 © 2009 Roger W. Aponte