Batey Columbia Railroad Bridge Spanning Maunabo River, Maunabo, PR
Batey Columbia Bridge (Report / Informe)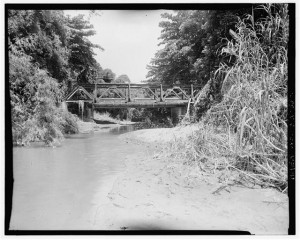 1. View of west side, from river bed. – Batey Columbia Railroad Bridge, Spanning Maunabo River, Maunabo, Maunabo Municipio, PR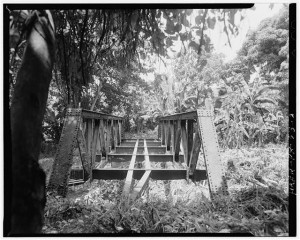 2. View of north side, from approach – Batey Columbia Railroad Bridge, Spanning Maunabo River, Maunabo, Maunabo Municipio, PR
Record, Historic American Engineering. "Batey Columbia Railroad Bridge, Spanning Maunabo River, Maunabo, Maunabo Municipio, PR." Still image, n.d. http://www.loc.gov/pictures/item/pr1461/.
This file mentions railroad operations related to Central Columbia and Central Lafayette.  Dr. Luis Pumarada-O'Neill prepared the report and Roberto Avilés took the photos.
Este archivo incluye datos sobre operaciones ferroviarias relacionadas a las Centrales Columbia y Lafayette.  El Dr. Luis Pumarada-O'Neill preparó el informe y Roberto Avilés tomó las fotos.