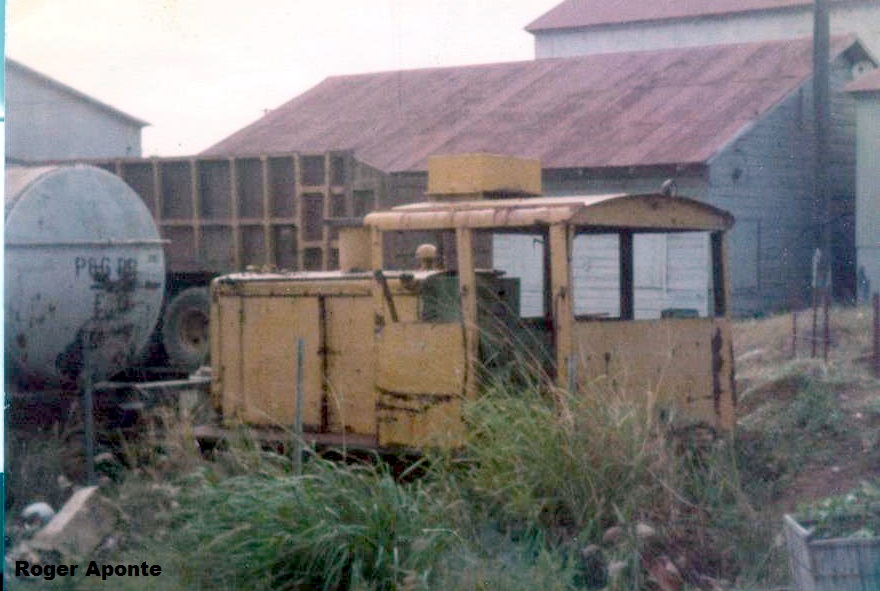 Central Aguirre.
—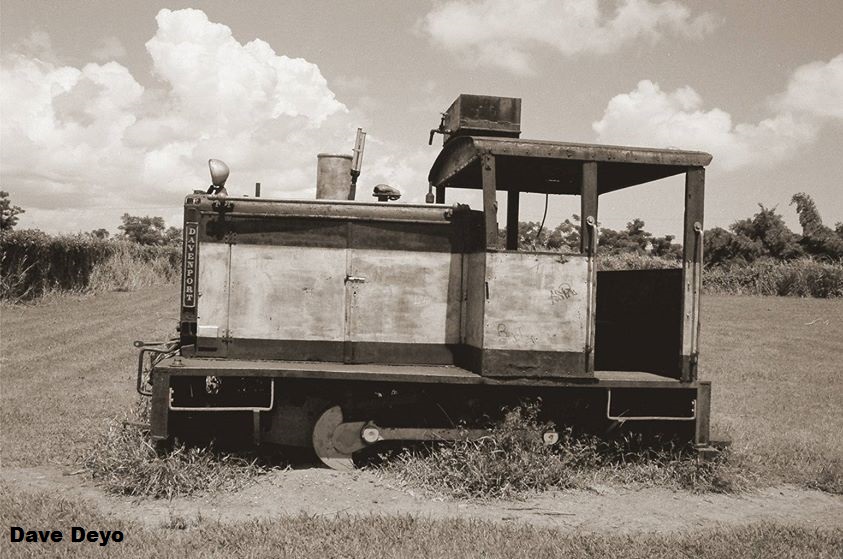 Observe que la locomotora tiene bielas como en una locomotora de vapor.
A black & white photo album of P&G #12 shortly after arrival at Parque Julia de Burgos in Carolina. I was always attracted to the side rods that some GE and Davenport locomotives had, and this small Davenport had them as only one axle was powered and the rod connected the other set of wheels so they too were powered. The same concept as a steam locomotive. Dave Deyo (Facebook Historia del ferrocarril en Puerto Rico,  17 abril 2014)
Roger: Here's P&G #12 some months after delivery to the park site. It sat here like this for several years before being taken away to storage. It is hidden somewhere in a building in the municipality of Carolina. This worked at Central Cortada for quite a few years after working at Aguirre, and when Cortada was completely shutdown for good, it returned to Aguirre. It was originally ordered to work the sugar cars out onto the dock, being Aguirre's lightest locomotive at the time. Dave Deyo (Email Jan. 21, 2007)
—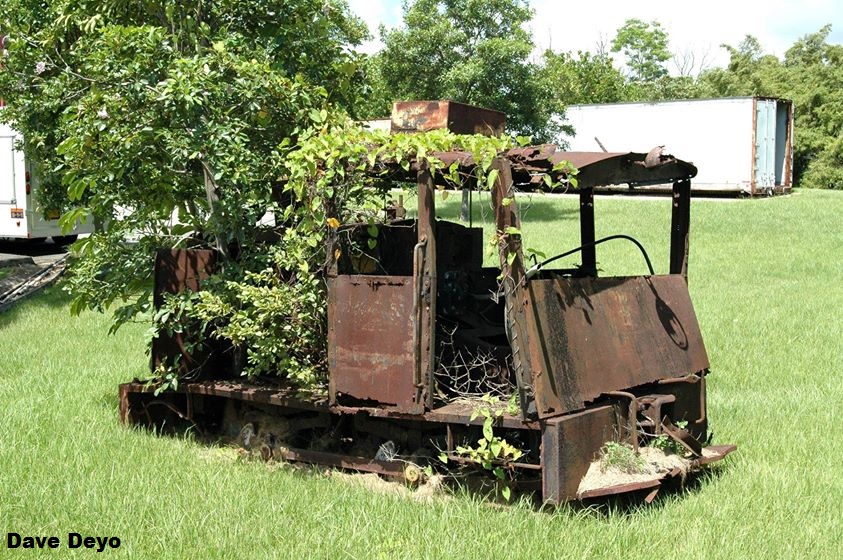 The locomotive is no longer at the park. / La locomotora no está en el parque.
—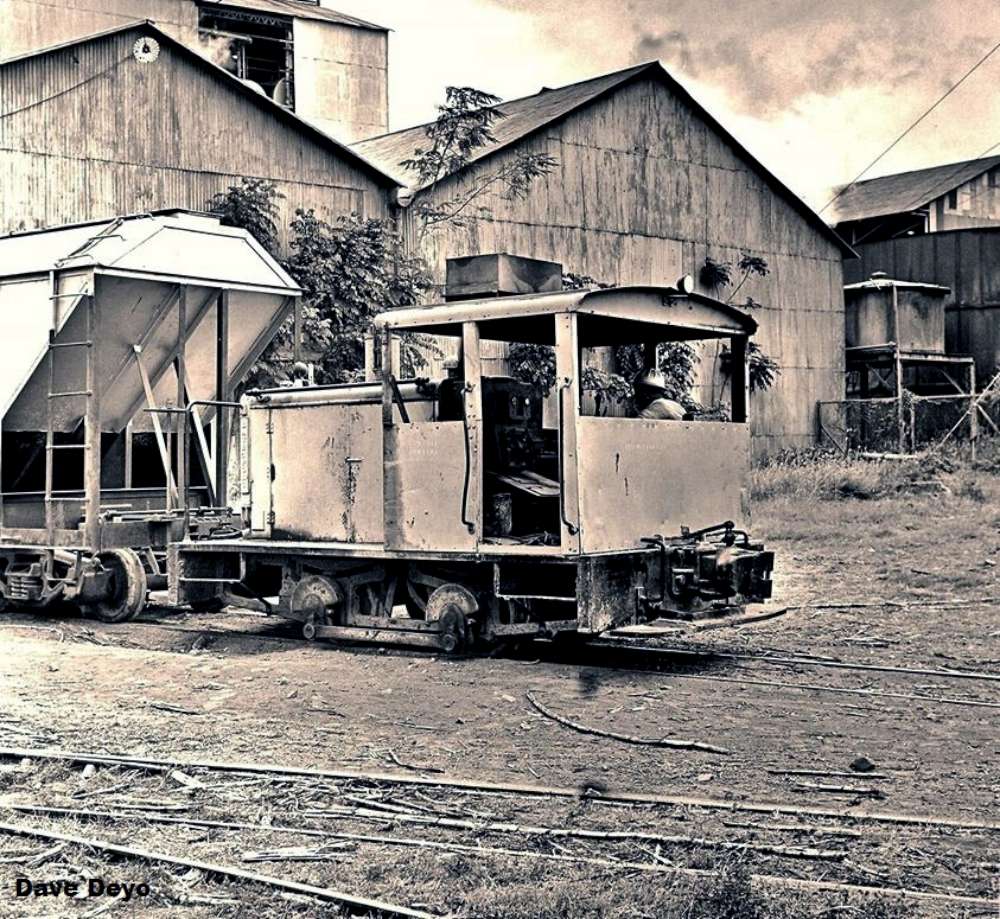 Just a short essay about the sad fate of a little Davenport I first photographed at Central Cortada back in 1969. When I found this little critter, it was parked inside part of the mill, out of service after the mill shut down for the harvest. I visited the mill the next year and found it moving bulk sugar cars on one trip, and switching loads and empties in and out of the mill. The locomotive was built for the Ponce & Guayama RR as their #12, Davenport serial #2309 built 10/1940, model DM-10 with a Caterpillar D7700 diesel engine. At Aguirre, it's duty for a long period of its history was to move bulk sugar containers onto and off of the mill's pier in Jobos bay. When the narrow gauge railroad at Central Cortada was being phased out and Aguirre Sugar began grinding some of its cane at the mill, a meter gauge locomotive was needed to switch the P&G cane cars brought to the mill over the mainline. #12 was painted yellow and with very tiny stenciling lettered Central Cortada #1 on cab sides and rear. When Central Cortada ground its last crop and was closed, #12 was shipped by rail back to Aguirre where it sat out of service for several years. Then through some political maneuvering, it wound up either by sale or donation, at the new Julia de Burgos park along Clemente Avenue in Carolina. Supposedly, the city had planned to put a small railroad within the park, using the Davenport as the power for the train.
Well, it just never seemed to happen. The picture cycle shows the builder photo of #12, then #12 as Cortada #1, then on to Carolina where it looks in good shape. Then the rest is self-explanatory, as it becomes more and more evident that it has been left to decay. I don't know if there is even enough of it left now to be able to spot it from the road. The last frame shows the locomotive switching at Cortada.  Dave Deyo (Facebook Historia del ferrocarril en Puerto Rico,  16 abril 2014).