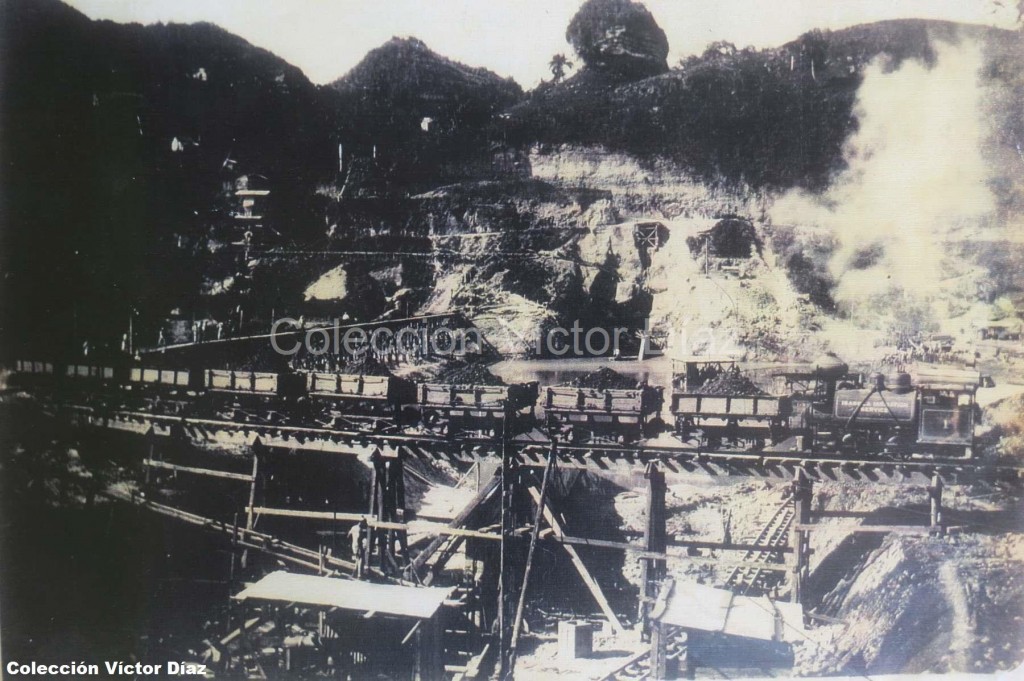 —
El embalse de Guajataca fue construida entre el 1919 y el 1928 (1929) y está localizado entre los municipios de San Sebastian, Isabela y Quebradilla .  Sirvió para riego, actualmente limitado, y producción hidroeléctrica, descontinuada.  Su mayor uso es para abasto de agua a la región noroeste, que incluye los municipios de Isabela, Aguadilla, Rincón y Aguada.  Fue construida por el Cuerpo de Ingenieros del Ejército de los EE.UU (United States Army Corps of Engineers) y pertenece a la Autoridad de Energía Eléctrica de Puerto Rico.  Se usaron ferrocarriles para esta obra.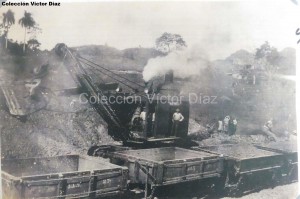 —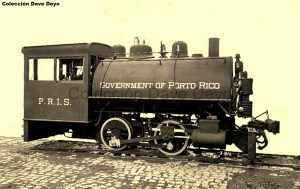 Alco Tank Loco #1 – PR Irrigation Service
—
Lago Guajataca is a reservoir constructed by the United States Army Corps of Engineers between 1919 and 1928 (1929).  It is located between the towns of San Sebastian, Isabela, and Quedbradillas and it is owned by the Puerto Rico Electrical Authority.  It provides water for irrigation and to the residents of the Northwestern part of Puerto Rico.  At one time it was used to provide hydroelectric power.  Railroads were used in the project.
—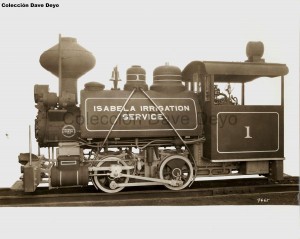 Baldwin Tank Loco
—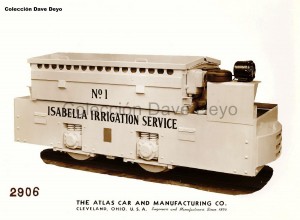 Isabela Irrigation Atlas Battery Mine Loco #1
Battery locomotives were used in the construction of tunnels.
Locomotora de baterías  usada en la construcción de los túneles.
Sociedad Ferroviaria Puertorriqueña
Vía portátil en la construcción de la represa de Guajataca (1925)

—
See / Ver:
Características y Condición de los Embalses Principales en Puerto Rico. http://www.drna.gobierno.pr/oficinas/saux/secretaria-auxiliar-de-planificacion-integral/planagua/estudios/INFORME_EMBALSES_2MAR04.pdf
Embalses de Puerto Rico, Enciclopedia de Puerto Rico
http://www.enciclopediapr.org/esp/article.cfm?ref=08032402&page=2
Guajataca Lake, http://en.wikipedia.org/wiki/Guajataca_Lake. From Wikipedia, the free encyclopedia
Lago Guajataca.  http://es.wikipedia.org/wiki/Lago_Guajataca
Lista de Represas y Embalses
http://www.aeepr.com/represas/represas.asp
Reservoirs of Puerto Rico.  Puerto Rico Encyclopedia.
http://www.enciclopediapr.org/ing/article.cfm?ref=08032402
—
Dave Deyo emails:
June 27, 2013 2:29 PM
…I noted that in one photo where you could see the sides of the small tilt-dump cars
that they were simply lettered IIS for Isabela Irrigation Services.  When the PR Irrigation Service built additional lakes and irrigation systems, they used a similar tilt-dump car, except that theirs had two four-wheeled trucks underneath, not the simple two axles like these on the Isabela project had underneath them.  They all look like Gregg cars, but Magor and some other companies manufactured very similar cars for hauling earth and rock.  There were thousands of them here in the States, used by contractors and mining companies.  Class 1 railroads used them for hauling rip rap (large pieces of stone for reinforcing embankments) and ballast as well as dirt from ditching along right-of-ways…
——
Date: Jun 20, 2013 at 11:05 AM
…The map you sent is showing the Agricultural Transportation tracks, and that coincides with the letter.  The AT Co. used trackwork that was originally built to transport equipment and materials for the building of the Isabela Irrigation Service which included a power plant using waters drawn through from Dos Bocas reservoir to run turbines, that water later being distributed for irrigation of the northwestern farmlands south of Isabela and toward Moca.  When the project was completed, the trackwork would have been torn up, but was offered at auction and went to the ATCo.  The map, incidentally, doesn't show the proposed extension westward from the end of the original railroad, which make me wonder if they ever built it, or, if USGS never added it when it was built later.
Any equipment sent to the Isabela Irrigation project was lettered accordingly, except the second Atlas battery loco.  The three Baldwins were BLW #58826,7 & 8, built 12/1925, 0-4-0 ST, 10 tons and designed to burn wood.  They were 30″ gauge.  The Atlas battery mine locomotives were #2006,7  built in 1936, 6 tons, 24″ gauge.  These came when a second phase of tunneling was done, and were shipped via the US Treasury Department (who may have funded the improvements to the project)…  The initial project was carried out between early 1926 to mid 1928, while the second phase spanned late 1936 to late 1939.  There is no record of sale for the two Atlas engines, and they may have gone on to work on more dam projects.  The Baldwins were sold off of the island in the early 1930s, but I looked and I don't have any record of who purchased them….
—
Gracias / Thanks:
Dave Deyo
Víctor Díaz
AMIGOS DEL TREN DE ISABELA (ATI)
Amigos del tren Isabela – Reviviendo la historia del tren en Puerto Rico