Viejo San Juan / Old San Juan
Las fotos fueron tomadas en el área de los muelles.  Las vías representan un ejemplo de un tren liviano moderno que operará en el futuro en la ciudad (Viejo San Juan) con conexiones a Isla Grande y al Tren Urbano en Santurce.
Bahía Urbana es un proyecto, en etapa de diseño, del Gobierno Central de Puerto Rico para renovar el área de los muelles del Viejo San Juan, el Canal de San Antonio, y el Centro de Convenciones.  El tren liviano, conocido como SATOUR,Sistema Automatizado de Transportación Organizada Urbana, es parte de un proyecto de renovación del Gobierno Municipal de San Juan.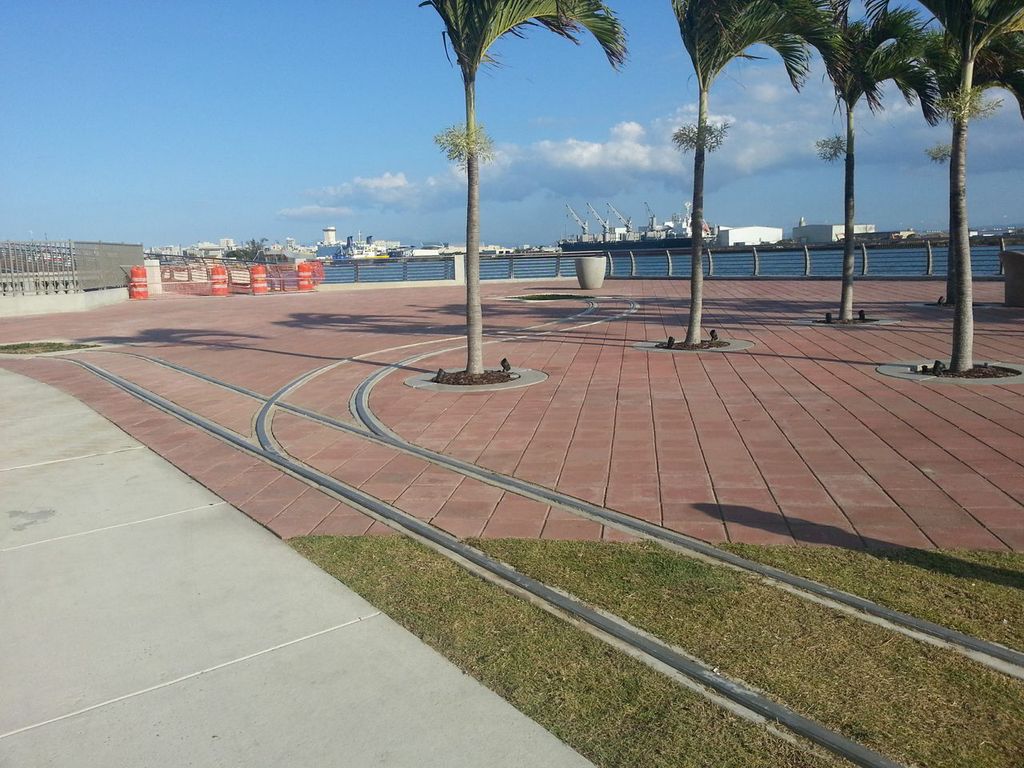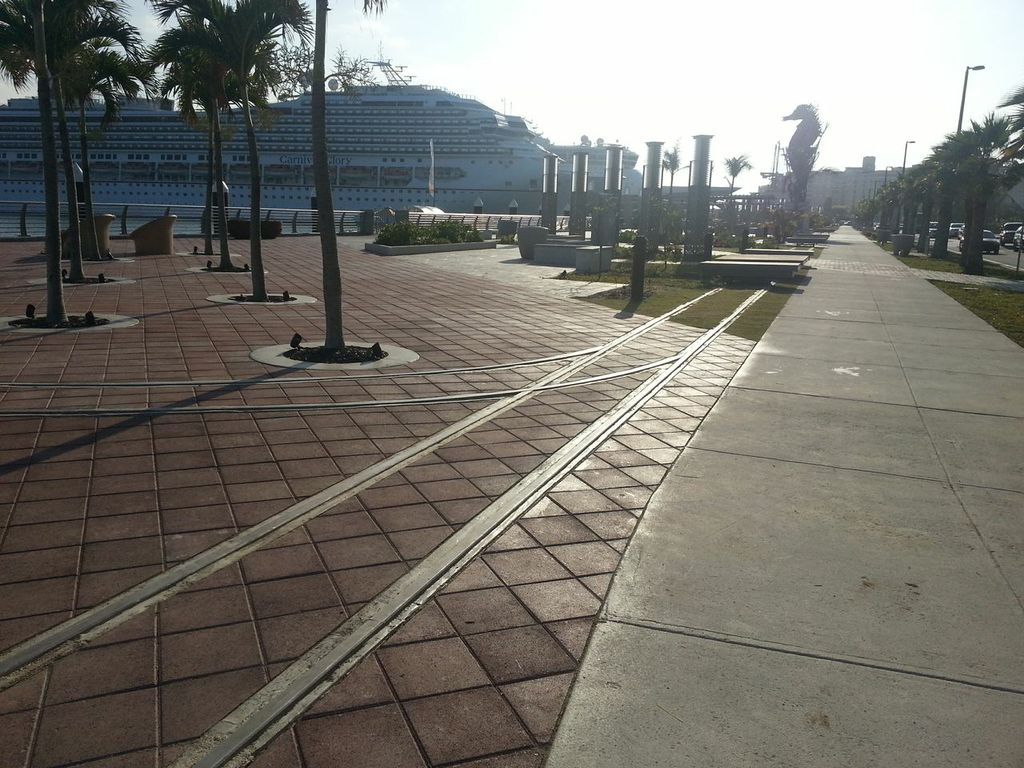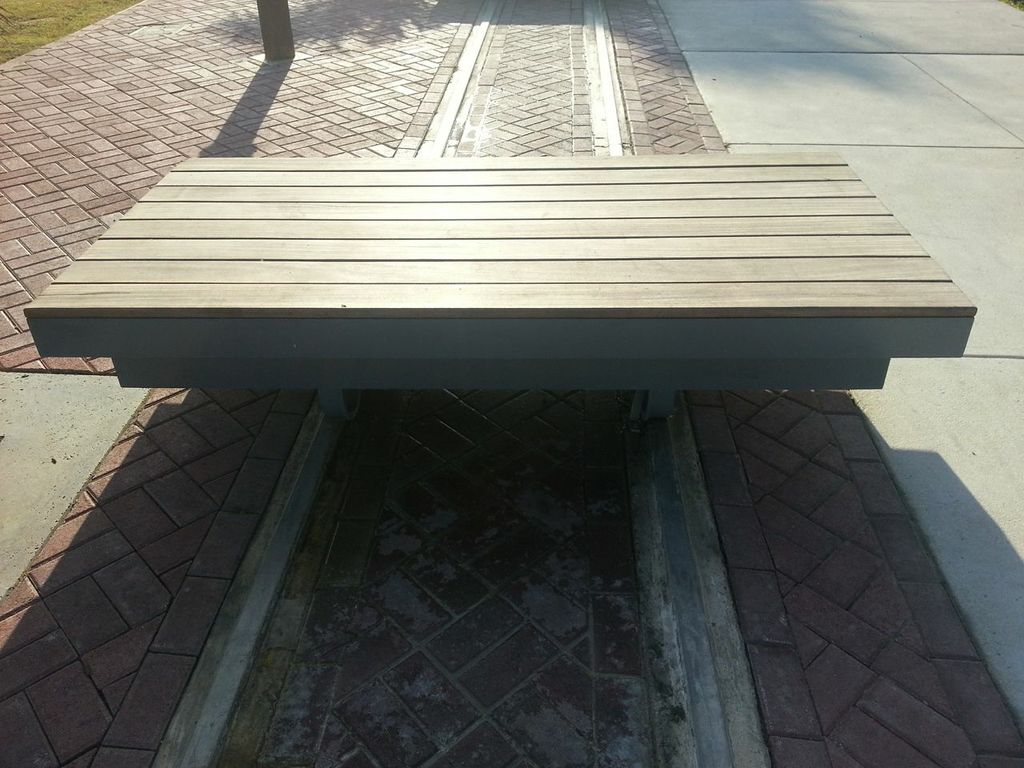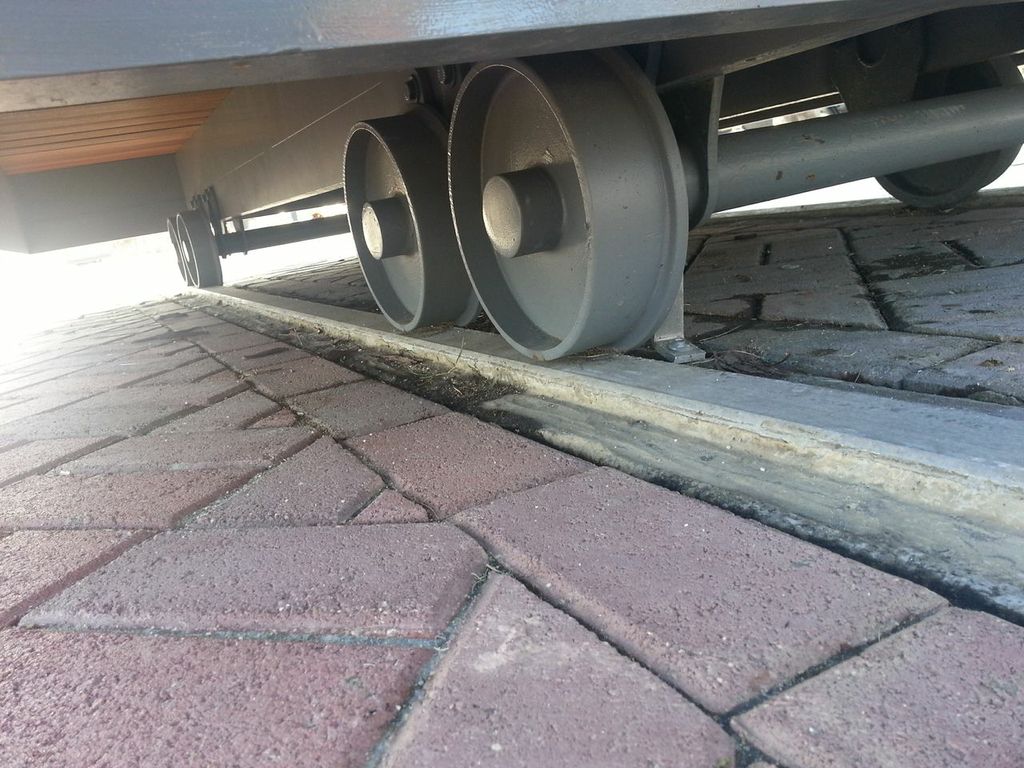 El ancho de vía del tren liviano será 1,435 mm / 4 ft 8 1⁄2 in (Track Gauge)
Above photos taken on March 27, 2013 by Roger Aponte.
Photos were taken in Old San Juan next to the docks. Tracks represent an an example of a modern future Light Rail Train that will operate in the city (Old San Juan) and connects to Isla Grande and Tren Urbano in Santurce.
Bahía Urbana is a project, in the planning stage, of the Central Government of Puerto Rico that will renovate the dock area of Old San Juan, Canal San Antonio and the Convention Center District. The light rail train, known as SATOUR,the San Juan Automated Urban Transportation System, is part of a renovation project of the Municipal Government of San Juan.
The following photos, used with permission, were taken by Thomas Kautzor, a Swiss visitor.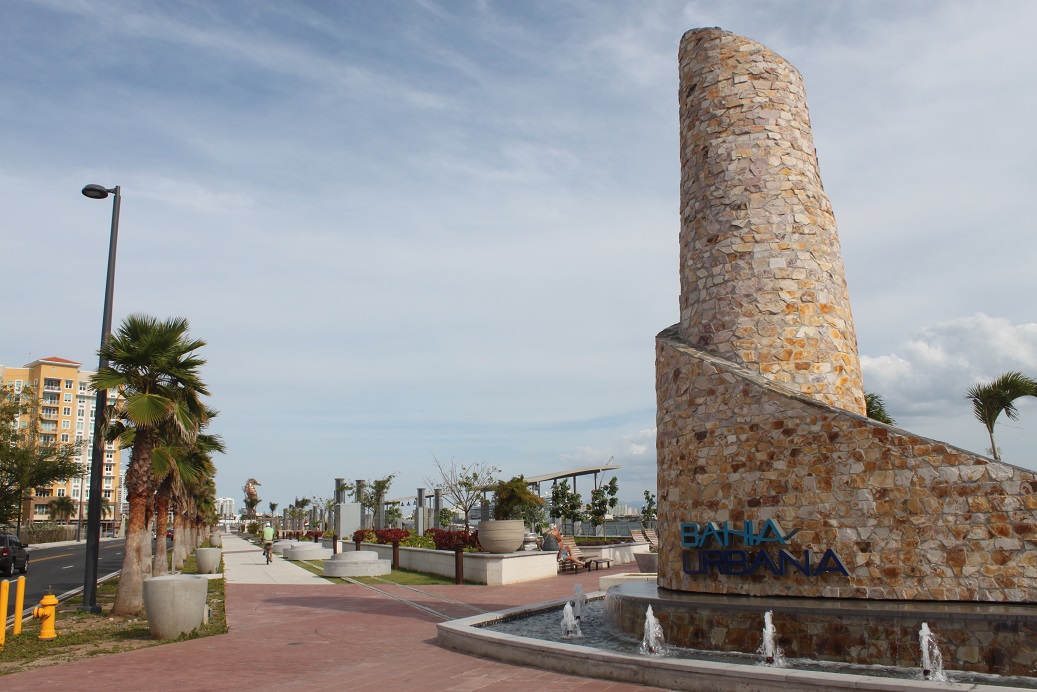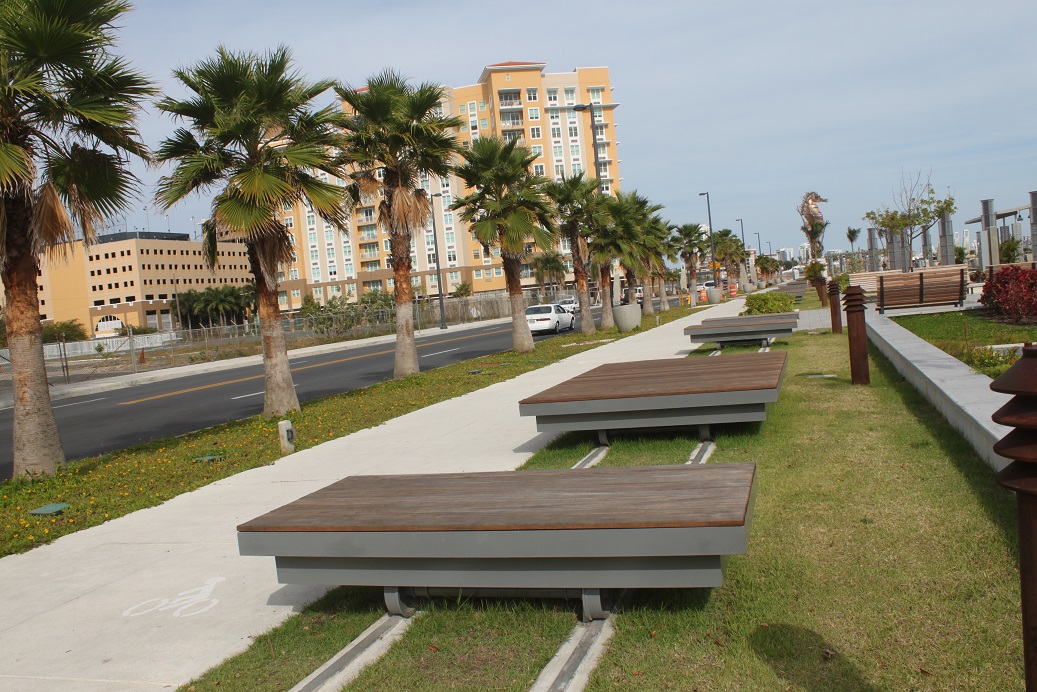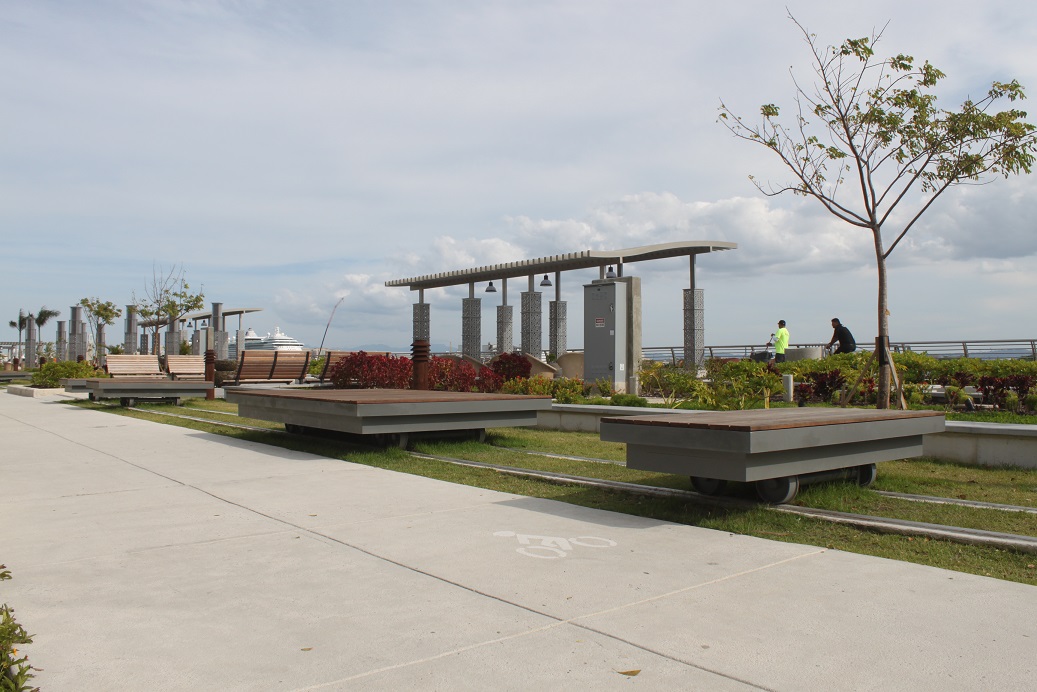 See / Ver:
"Walkable City San Juan (July 8, 2010)." Web. 10 Apr. 2013.
<http://issuu.com/sanjuannews/docs/finalreportsummary_walkablecity_july3-final>
"Transport Advice for Puerto Rico's Bahia Urbana in San Juan | SDG – Europe and Rest of World." Web. 10 Apr. 2013.
<http://www.steerdaviesgleave.com/casestudies/transport-advice-puerto-ricos-bahia-urbana-san-juan>
Government of Puerto Rico.  Bahía Urbana, Vision Book. 28 Sept 2010. Downloaded 10 April 2013.
<http://bahiaurbana.com/pdf/VISION_BOOK.pdf>
Figueroa Medina, PHD, PE, Alberto M.  "Tren Urbano." Expo Convención CIAPR 2012, 13 de septiembre de 2012.  Hotel Ritz Carlton, Puerto Rico. Web. 10 Apr. 2013.
<http://www.slideshare.net/bicicletapr/bici-tren>
"Santini: $1.3M Acquisitions First Steps in 'Walkable City' and Light-rail Project – Caribbean Business (Issued : Monday, May 9, 2011 06:05 PM )." Web. 10 Apr. 2013.           < http://www.caribbeanbusinesspr.com/news03.php?nt_id=57145&ct_id=1>
"SATOUR to Fulfill San Juan's Economic Potential (Tue, Nov23, 2010)." Web. 10 Apr. 2013.
< http://blog.compraoalquila.com/2010/11/23/satour-to-fulfill-san-juans-economic-potential/>
"Tren Liviano De San Juan – Wikipedia, La Enciclopedia Libre." Web. 10 Apr. 2013.
< http://es.wikipedia.org/wiki/Tren_Liviano_de_San_Juan>
"San Juan Train Plan Gains Ground in DC – Caribbean Business (Issued : Thursday, July 14, 2011 02:15 PM)."  Web. 10 Apr. 2013.
<http://www.caribbeanbusinesspr.com/news03.php?nt_id=59567&ct_id=1>
Bahía Urbana, www.bahiaurbana.com.  "BROCHURE.pdf." Web. 10 Apr. 2013.
<http://www.bahiaurbana.com/pdf/BROCHURE.pdf>